SFC: Gaeils' goals down Dunshaughlin
April 12, 2014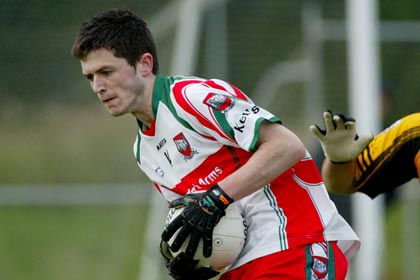 Seamus Mattimoe Gaeil Colmcille
Gaeil Colmcille 4-07
Dunshaughlin 1-15
A last gasp point from star forward Seamus Mattimoe deep into injury time Gave Gaeil Colmcille their first win at senior level with a narrow one point win in this hoganstand.com SFC played in Skyrne on Friday night last.
Dunshaughlin were first off the mark with two early points before Mattimoe got the Gaeils on the board with a excellent goal in the ninth minute.
Captain Brian Hanlon raised the second green flag for the Kells men near the end of the first quarter. A free from Seamus Mattimoe and a long range effort from Gary Arkins put four between the sides 2-02 to 0-04 in the twenty fifth minute. Dunshaughlin kept in touch with 2 more points and trailed by only 3 points at half time 2-03 to 0-06.
In the second half Dunshaughlin started brightly and were on level terms with unanswered points after just six minutes of the restart.
However, a cracker of a goal from Danny McGovern put the Gaeils back in business. Another Hanlon free and (0-01) each from Mattimoe and McGovern Gave last years IFC champs a five point lead, 3-06 to 0-10, ​with sixteen minutes left on the clock.
Dunshaughlin had a mountain to climb and to their credit they outscored Gaeil Colmcille by 0-05 to 0-0 to level things up, both supporters got behind their teams and it was a nail biting finish but with just four minutes left full forward Martin Barrett scored the Gaeils fourth goal after a long ball from Stephen Reddy.
At this stage it looked like the killer blow. Dunshaughlin never gave in and their first goal came shortly afterwards and a draw match seemed to be on the cards before Seamus Mattimoe scored a last gasp point to give the Kells men an excellent start to life in the senior grade.
Gaeil Colmcille, J C Lynch, M Foley, R Flanagan, B Tormay, L Ferguson, S Curran, S Reddy. G Arkins (0-01) C O Reilly, D Smith, B Hanlon (1-02, 2f)
O Reilly, S Mattimoe (1-03,1f), M Barrett,(1-00) D McGovern (1-01). Subs used H Barry, for C O Reilly, C Keegan for M Foley, B Farrelly for D Smith.
*****
Dunshaughlin report:
Dunshaughlin 1-15
Gaeil Colmcille 4-07
Newly promoted Gaeil Colmcille were the opponents as Dunshaughlin got their SFC campaign off to a start under lights in Skryne on a beautiful spring evening perfect for football.
Cathal O'Dwyer's Lazarus style recovery to start at corner forward was pretty much the talk of the parish and social media before the match with its likes not been seen in this part of Meath since Colm O' Rourke rose from his sick bed to play the last 15 mins of the 1991 All Ireland final. It did not take the diminutive corner forward long to announce his comeback with O'Dwyer scoring the first point of the game after 2 minutes of football played. Conor Devereux was next to get in on the scoring 6 minutes later after some good build up play from Ben Duggan and Trevor Dowd with the black and amber starting to find their rhythm however the men from Kells had other ideas with them scoring the first goal of the game 5 minutes later to have them leading.
Gaeil Colmcille who brought a large contingent from Noth Meath got great confidence from this and upped their game and backed this up by scoring two more points from play and they were not done here with them scoring the second goal of the evening after 10 mins of play with the ball finding the back of Dunshaughlin goalkeeper Ronan Gogans net who was making his 100th senior championship appearance 14 years later where he made his first senior appearance in a game remarkably played also in Skryne. Dushaughlin were desperately in need of a score after the Kells onslaught and they duly responded by Senior Championship debutant Ben Duggan getting his first of the night far from the right after some intelligent build up play from Mark Devaney.
Dunshauglin were now starting to get their hands on some good possession and perhaps were making one pass too many and over complicating things where as Gaeil Colmcille were playing a lot more direct and using the space to their advantage. The next Dunshaughlin score came from Conor Devereux who was sporting a new pair of very colourful boots that could be seen from the far side of Pluto fresh from his recent boot deal with Nike that was an audacious free kick off the ground on the right that now had three points between the teams again.
The introduction of Maynoth student Niall Murphy meant that Caoimhin King reverted to a more natural position for him acting as a sweeper and this seemed to stem the Kells flow of attack with that man soupy Devereux again scoring a great point and another from birthday boy Ben Duggan had Dunshaughlin down by three points as the first half came to an end.
Dunshaughlin came out fighting at the start of the second half with Conor Devereux picking up where he left off with him scoring this time off his left after some good work from Mark Devaney and a minute later Tommy Johnson got his first score of the game with a long range point to now leave the bare minimum between the teams. Gaeil Colmcille were never going to lie down and soon again found their rhythm by them tagging on further points as they increased their lead half way through the second half with them scoring their third goal of the game to leave Dunshaughlin now behind by 5 points.
With Cathal O'Dwyer now starring to find the radar with his left foot after a Mark Devaney attempt came of the post and Trevor Dowd starting to show his true value and importance to the team by starting to dictate things around the centre Dunsaughlin remarkably were still alive as we reached the last 10 minutes of the game with Conor Devereux enjoying his finest outing in a championship match to date with him inspiring Dunshaughlin at times with some deadly point taking from play and a dead ball to now have the game level with 7 minutes of football left.
Stephen Ward who has Kells roots with his father Paddy a keegan cup winner with Kells found himself in the game soon after this and his recent fine form continued with his scoring a point from play that could have very easily have been a goal to now look as though the momentum was with Dunshaughlin as we entered the last five minutes.
Gaeil Colmcille never panicked in this game and showed maturity beyond their years and remarkably managed to score their fourth goal of the game with now just two minutes of football played. Dunshaughlin's goose now looked cooked but they showed remarkable poise and self belief to get possession from the kickout with a long all going inside to Cathal O'Dwyer who expertly passed to Stephen Ward with a player of Ward's calibre not needed to be asked twice with him finding the roof of the net in the 29th minute to again draw things level. A draw now was looking to be on the cards but Gaeil Colmcille had other ideas with them securing the victory with an injury time point to break Dushaughlin hearts.
Dunshaughlin will know that they showed great character to get back into this game and 1-15 will win almost every game but conceding 4 goals in any game is footballing suicide. Trevor Dowd and Mark Devaney worked very hard and will be pleased with their shift while Cathal O'Dwyer always looked dangerous inside. However the bottle of Champaign on the night for me goes to Conor Devereux who gave an exhibition on point scoring and can now be classified as an artist as well as an entertainer.
Dunshaughlin - R. Gogan, A. Doyle, M. Aherne, F. Delaney, E. Hagarty, T. Johnson(0-01), T. O'Dushlaine, F.Toolin, R. Maloney, M. Devaney, T. Dowd, B. Duggan(0-02), C. O'Dwyer(0-04), C. King, C. Devereux(0-07). Subs - N. Murphy for T.O'Dushlaine, S. Ward(1-01) for B. Duggan
Most Read Stories