Nobber unhappy at relegation format
October 08, 2013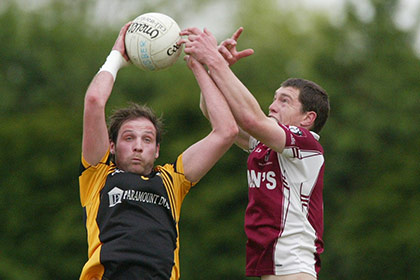 Nobber's Colin Clarke outfields Moynalvey's Padraig Harnan during the hoganstand.com Meath SFC game at Walterstown
Nobber delegate Gene Smith claimed that his club was "taken out" of the Meath SFC rather than relegated from the top grade because of a badly flawed regulation at the October meeting of the County Committee.
Nobber and Oldcastle drew in the first round of the play-offs before Dunshaughlin defeated Nobber. Those results meant that Dunshaughlin were safe from relegation and Oldcastle's win over them sent Nobber down.
"The Dunshaughlin v Oldcastle match was meaningless. I'm not suggesting that Dunshaughlin threw the game but they had nothing to play for.
"Everyone can see the regulation is flawed. Nobber were proud to be in senior ranks, the regulation is grossly unfair and needs to be put right," said Smith.
Vice-chairman Peter O'Halloran expressed sympathy for Nobber and said the system needs to be looked at.
Summerhill delegate Anne McDonnell was critical of the teams for the second SFC semi-final having to wait an extra 40 minutes because of extra-time in the curtain-raiser.
She also expressed unhappiness at the warm-up pitch behind the stand in Pairc Tailteann being turned into a car park, adding that the wait was not fair on the two senior sides.
Most Read Stories