IFC: Semi's for St Michaels
September 15, 2013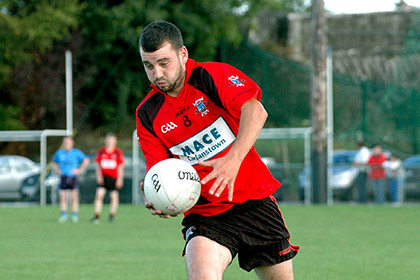 St Michael's David Lynch. Photo courtesy of Pascal Reilly
The people of Kilbeg parish turned up in their hundreds to Seneschalstown's beautifully manicured pitch on a balmy Saturday evening to witness what was an excellent game of football and the tremendous effort that was put in by all of their players which see's them advance to the semi-final of the Meade Potato & Co Intermediate Championship. 
St Michaels 2-9
St Colmcilles 0-11
Jamie Farrelly produced a whirlwind opening 6 minutes notching up 1-2 which laid the groundwork for an excellent opening half for his side. Jamie's goal came in the fifth minute when he got on the end of a Ronan Lynch free to fist it to the back of the net. St. Colmcilles opened their scoring with a pointed free on 7 minutes but this was soon cancelled out when Felim O'Reilly sent over almost immediately to restore the advantage. St. Colmcilles followed up with a pointed free from their next attack to leave it 1-3 to 0-2. For the next 12 minutes the exchanges were shared and were hard and fair with both side missing chances in front of goal, only Kevin Cassidy could manage a point in that period of play. St. Colmcilles hit two points in the 20th and 21st minute to leave just a goal between the sides, David Lynch extended that lead to 4 points on 23 minutes before Ronan Lynch added his side's final score of the half on 26 minutes. St. Colmcilles added two further points to reduce the deficit to 3 points at the break, 1-6 to 0-6. Paul McCormack was never really troubled in the St. Michaels goals while J.B. O'Reilly, David Lynch and Felim O'Reilly controlled most of the midfield exchanges, Daithí Reilly, Jamie Reilly, Mark Stafford, Philip Rogers and Ronan Cassidy put in a solid opening 30 minutes, although wearing no 14 Tommy Moriarty was used as a sweeper and with Sam Briody doing a man to man marking job on Graham Reilly the St. Michaels backroom team could be quite pleased with their teams first half performance.
St. Colmcilles came out with all guns blazing in the second half and had a point on the board in the opening minute, they were then awarded a dubious penalty when Jamie Reilly fouled the ball on the ground which St. Colmcilles sent to the back of the net to put them into a 1-7 to 1-6 lead, they had extended that lead to 3 points by the 40th minute as St. Michaels were stuck in a rut and going no place. David Lynch converted a free on 46 minutes to register his sides first score of the half, St. Colmcilles restored their 3 point lead 3 minutes later. Ronan Lynch sent over another free on 55 minutes but by this stage the St. Michaels dominance at midfield had faded and J.B. O'Reilly was switched into full forward with John Farrell moved outfield and the move had immediate effect as a long ball in from John Farrell was won by J.B. who went on a short solo run, rounded the keeper and struck it to the bottom corner of the net to leave it 2-8 to 1-10 with 4 minutes remaining on the clock. Tensions were high on and off the pitch and in the 57th minute substitute Peter O'Connell sent over from an acute angle to put two between the sides. St. Colmcilles made a couple of attacks in the dying minutes but could only register one point in the 61st minute as St. Michaels held out for a deserved victory and a semi-final place with Clan na nGael.
Team & Scorers. Paul McCormack, Jamie Reilly, Sam Briody, Daithí Reilly, Mark Stafford, Philip Rogers, Ronan Cassidy, David Lynch 0-2, J.B. O'Reilly 1-0, Ronan Lynch 0-2, Felim O'Reilly 0-1, Kevin Cassidy 0-1, John Farrell, Tommy Moriarty, Jamie Farrelly 1-2. 
Subs....Peter O'Connell 0-1 for Tommy Moriarty 40 minutes, Gary Dolan for Daithi Reilly 44 minutes, Ben Farrell for John Farrell 60 minutes. 
Referee...Richard Morris.
Report by Pascal Reilly.
Most Read Stories