IFC: Michaels reach quarter final
September 02, 2013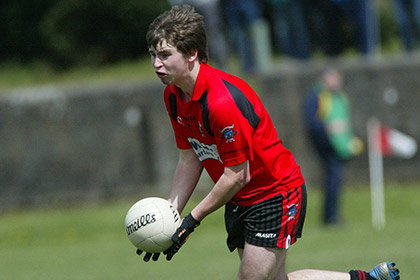 St Michael's Sam Briody
St. Michaels 1-12
Carnaross 0-6.
St. Michaels progressed to the quarter finals of the Meade Potato & Co Ltd IFC after this hard earned win over neighbours Carnaross in Meath Hill last evening. Tensions were high throughout this match both on and off the pitch as a win for St. Michaels did not necessarily guarantee them a place in the knock-out stages but as updates from other venues began to filter through in the second half with the news that things were going St. Michaels way the nerves seemed to settle on the pitch and they put in an exceptional last quarter firing in 1-3 to their opponents 0-2 to run out with a comfortable 9 point victory.
John Farrell opened the scoring with a point in the 3rd minute, this was followed by three unanswered points from St. Michaels, two from Ronan Lynch ( 1 free ) and a well taken effort from J.B. O'Reilly to send St. Michaels into a 0-4 to 0-0 lead after 12 minutes. Nineteen minutes of play had elapsed before Ollie Murphy opened the Carnaross account and a point 4 minutes later completed their first half tally. A further point apiece from J.B. O'Reilly and Ronan Lynch completed the first half scoring for St. Michaels whose supporters were left rather frustrated by the half time break after having watched and rued their team serve up a series of missed opportunities in front of the sticks with many shots blazed wide and a large amount falling short into the keepers hands but despite their lack of firepower Tom Halpin's charges enjoyed a greater share of the spoils in the opening half and held a four point cushion at the turnover, 0-6 to 0-2.
The strong cross wind that made playing conditions difficult in the opening half seemed to have died down before referee Sean Kerley threw in the ball for the start of the second half and it was Carnaross who were first up on the scoreboard as they cut the deficit to just 3 points four minutes into the second half but man of the match Jamie Reilly restored his teams 4 point advantage when at a crucial period in the match he sent over a great point after one of his many surging runs up the middle. Operating from corner back Jamie Reilly and Daithí Reilly raided forward on many occasions to relieve the pressure at the back and to set up attacks for their forwards. Philip Rogers took a leaf from Jamie's book on 39 minutes and set off on a run which resulted in an exceptional solo effort from 40 metres out which put his side 0-8 to 0-3 in front. Carnaross were held scoreless for the next 14 minutes as David Lynch and Jamie Farrelly stretched the St. Michaels lead. Carnaross hit back with 2 points in a three minute spell but a Ben Farrell effort off his left foot had the St. Michaels supporters cheering as the lead went back to 6 points, Carnaross hit back again with a point on 56 minutes but time was running out on them and as the game entered stoppage time Ronan Cassidy send over the last point of the match. St. Michaels gained possession from the resultant kick out and as J.B. O'Reilly made a charge on goal he was brought down in the square and Jamie Farrelly sent his penalty shot to the roof of the net to seal the deal and secure his teams place in the quarter finals. 
St. Michaels & scorers :
Paul McCormack, Jamie Reilly 0-1, Sam Briody, Daithí Reilly, Mark Stafford, Philip Rogers 0-1, Ronan Cassidy 0-1, David Lynch 0-1, J.B. O'Reilly 0-2, Felim O'Reilly, Jamie Farrelly 1-2, Kevin Cassidy, Peter O'Connell, John Farrell, Ronan Lynch 0-3.
Subs....Ben Farrell 0-1 for Peter O'Connell, James Farrell for J.B. O'Reilly.
Referee....Sean Kerley, Magheracloone.
Report by Pascal Reilly.
Most Read Stories