IFC: Gaeils reach knockout stage
September 01, 2013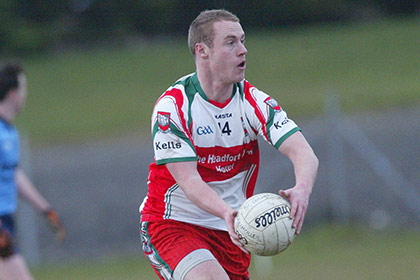 Gaeil Colmcilles Martin Barrett
Gaeil Colmcille 1-11
Donaghmore Ashbourne 2-04
Gaeil Colmcille reach the quarter final stages of the Intermediate Football Championship by beating Donaghmore Ashbourne by four points in Pairc Tailteann on Saturday evening last.
The Gaeils settled well and playing against a strong breeze they managed to lead 0-05 to 0-02 after sixteen minutes with points from Martin Barrett, Brian Hanlon, Stephen Reddy and Seamus Mattimoe (0-02).
A goal from Donaghmore Ashbourne shortly afterwards left the teams level. However, a free from Mattimoe gave the Gaeils the lead again before Brian Hanlon got the Kellsmens' only goal in the twenty sixth minute, following a long ball in by Barry Smith which put four between them and put the Kellsmen 1-06 to 1-03 at the break.
Captain Gary Arkins raised the first white flag for the Gaeils, with a long range effort, twelve minutes into the second half before full forward Martin Barrett got two more points and sub Keith Reilly with a fine score gave the Kells men a comfortable (1-10) to (1-03) lead going in to the final quarter.
The Donaghamore Ashbourne men were not going to throw in the towel just yet and got their second goal with ten minutes left on the clock. However, good defending by the Gaeils didn't let them back into the game. Martin Barrett put five between them with a point from a free and there was no way back for the Donaghmore Asbourne side who could only manage one more point before the final whistle.
The Gaeils move on to the quarter final stage and set up a meeting with last year's junior champions Ratoath.
Gaeil Colmcille: C Murray ,P Tormey, M Foley, B Tormay, S Reddy (0-01), R Flanagan, B Smith, G Arkins (0-01) C Keegan, S Curran, J C Lynch, S McManus, S Mattimoe(0-03), M Barrett(0-04), B Hanlon (1-01). Subs Used K Reilly (0-01) for B Tormey, O Reilly, for S McManus, L Ferguson, for B Hanlon.
IFC: Donaghmore Ashbourne make exit from Championship
Donaghmore Ashbourne 2-04
Gaeil Colmcille 1-11
Donaghmore Ashbourne young 2nd team made their exit from the Intermediate championship as they lost out to a stronger and more experienced Gael Colmcille on Saturday. The Donaghmore Ashbourne team which had seven players under 20's in the starting line out could not be faulted for effort but the Kell's outfit were deserving winners over the hour period.
Gael Colmcille opened with scoring with a point within 30 seconds of the throw in but Donaghmore Ashbourne's response was immediate when Declan Mulvey pointed from a free a minute later. The sides traded scores again with the Kell's side regaining the lead with a point courtesy of a mistake in the Donaghmore Ashbourne defence on 3 minutes but again Donaghmore Ashbourne replied on 5 minutes with a Sam Benville point.
Both sides had a number of chances for the remainder of the quarter but Donaghmore Ashbourne hit three wides and had another attempt fall short while at the other end Gael Colmcille raised the white flag on 10 and 14 minutes from play and 15 minutes from a free. Gael Colmcille should have been further ahead but hit the side netting on 14 minutes from an acute angle.
Donaghmore Ashbourne brought the sides level for the third time in the game when Declan Mulvey managed to shake off the attention of corner back and find the roof of the net on 17 minutes. Gael Colmcille regained the lead with a free on 20 minutes and took control of the game when they found the back of the net on 25 minutes to go four ahead. A good long range point from Thomas Mc Govern left the half time interval at Donaghmore Ashbourne 1-03 Gael Colmcille 1-06.
Gael Colmcille extended their lead in the second half as they managed to register 4 unanswered points within 11 minutes of the restart. They also hit three wides in this period such was their dominance.
Donaghmore Ashbourne found it difficult to score in the second half as the Gael Colmcille defence upped their game and they had to wait until the 22nd minute of the half for their first score. Substitute Dylan Brady reduced the deficit when he finished off a good team move by firing to the net from close range however not late rally materialized.
The teams did trade scores late on with Gael Colmcille converting a free on 56 minutes and Tadgh Kelly replying with a 25 meter effort on 57 minutes. Donaghmore Ashbourne did have a goal chance in injury time but the effort when wide of the post.
Gael Colmcille progress to the quarter final of the Intermediate championship while Donaghmore Ashbourne's interest comes to an end for 2013 however the team do have the B1 league final to look forward to in the coming weeks.
Donaghmore Ashbourne: P. Durkan; R. O'Connor, T. Kelly (0-1), D. Lawlor; G. Deery, M. Lynch, I. O'Donnell; C. O'Mealoid, C. Brady; T. Mc Govern(0-1), S. Byrne, D. Mc Govern (0-1); D. Mulvey(1-1), D. Murtagh, S. Benville (0-1)
Subs: K. Fenton for O'Connor, J. Dwyer for Mulvey, D. Carey for C. Brady. D. Brady (1-0) for Byrne, R. Lawlor for D. Lawlor.
Most Read Stories