SFC: Emphatic win for Skryne over Oldcastle
September 01, 2013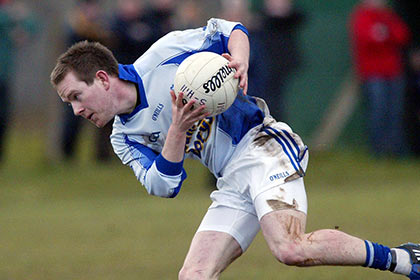 Skryne's Mark Battersby
Emphatic win over Oldcastle sees Skryne top Group B in Senior Football Championship
With Summerhill, St. Pats and Donaghmore Ashbourne all biting at their heels, Skryne needed a win over Oldcastle to be sure of a place in the knockout stages of this year's Senior Football Championship. Indeed at half time there was no guarantee that this would be the outcome as the game was still tied up with both sides on 0 - 6. However Skryne came out for the second period and played football that any of their former greats who were in attendance must surely have been proud to witness.
Skryne started fairly lively with points from Mark Battersby and Brian Davis within two minutes but these were cancelled out on the third and sixth minute with two from Oldcastle. Paddy Fox then had a point from a brilliant solo effort and when Paddy O'Rourke and David McGoldrick pointed two frees Skryne had a three point advantage by the fourteenth minute. However, Oldcastle got back into the game with three points of their own to once again tie up the scores at 0 - 5 each with twenty five minutes gone. Brian Davis then posted a point for Skryne but once again the Oldcastle men equalised the leave the teams at half time on 0 - 6 each.
After the break Skryne introduced Kevin Mulvany for Aidan Tuite, moved Paddy Fox to midfield and brought Paddy O'Rourke out to the right wing. The switches worked out perfectly. First Mark Battersby and Brian Davis pointed on thirty one and thirty two minutes. Then on thirty three minutes, with his first touch of the ball, Kevin Mulvany drove the ball to the net to give the Skryne men a five point advantage. Word was filtering through that St. Pats were beating group leaders Rathkenny but Skryne still had a mountain to climb if they were to bridge the scoring difference. With the chance of going top available they upped their effort and by the fortieth minute they were eight points ahead with further points coming from Mark Battersby, Ian Davis, David McGoldrick and Paddy O'Rourke for a single point reply from Oldcastle. While the Skryne forwards were dominant in this period, and very little ball was getting down to the Oldcastle forwards, whenever they did threaten the Skryne backs dealt efficiently with the threat. Martin Mulvany at full back followed his marker where ever he went which saw him play most of the second half in the middle of the field and there he deprived him of any decent ball. Corner backs Mark Harrington and Declan Morley, who really impressed this writer, dealt efficiently with any threat that came. However at this stage it was all Skryne and in the final quarter they scored a further 1 - 8 from Brian Davis (1 - 0), Paddy O'Rourke, Ian Davis, Mark Battersby(3), David McGoldrick, Kevin O'Reilly and Harry Rooney for just a two point reply from Oldcastle.
The result left them on top of the group with seven points same as Rathkenny but with a four point scoring advantage.
This was essentially a team win with everyone contributing to the result and nine different players getting on the score board. Obviously the game was won in the second half but in the first half when Oldcastle proved to be more difficult to overcome than expected it was the backs who had to work harder and Declan Morley particularly shone out in this period with numerous interceptions and decisive runs.
Final Score Skryne 2 - 20; Oldcastle 0 - 9
Skryne F O'Rourke, D. Morley, M. Mulvany, M Harrington, D. McGoldrick(3), C. Lenehan, R. McCabe, A Tuite, H. Rooney(1), P. Fox (1), I. Davis(2) C. O'Brien, B. Davis(1 - 3), P. O'Rourke(3), M. Battersby(6). Subs K. Mulvany(1 -0) for Tuite(H/T), M. Jordan for Harrington(45), K. O'Reilly(1) for I. Davis(46), D Brennan for Lenehan(50), A Carty for McCabe (56).
Most Read Stories