IFC: O'Connell point wins it for Michaels
August 19, 2013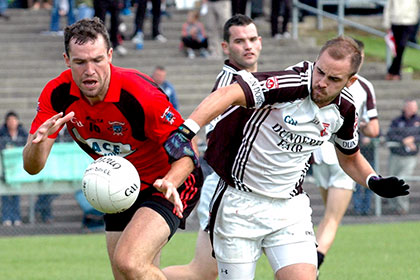 St Michael's Felim O'Reilly gains possession ahead of Dunderry's Aaron Newman during the IFC game at Simonstown. Photo courtesy of Pascal Reilly
St Michaels 0-7
Dunderry 0-6
A Peter O'Connell struck point in the 59th minute allowed St. Michaels to snatch victory over favourite's Dunderry in Simonstown on Sunday afternoon and in so doing, keep their interests alive in this years Meade Potato Intermediate Championship. St. Michaels manager Tom Halpin afterwards praised his men for doing what was asked of them at half time and for their courage and second half fightback to secure victory which leaves Tom holding the record of never having lost a match against Dunderry either as a player or as a manager.
This was a dogged affair from start to finish with both defenses holding their forts with some resolute defending. Both sides looked nervy in the opening exchanges so much so that it wasn't until the 19th minute that the deadlock was broken thanks to a converted free from Ben Farrell, Dunderry replied immediately with two points, the second point coming after a shot on goal beat Paul McCormack in the St. Michaels goal only to rebound off the bottom of the post back into play and Dunderry's effort from the rebound was excellently parried over the crossbar by Paul McCormack. Ronan Lynch sent over another free on 26 minutes to level the match at 0-2 apiece, but it was all Dunderry from there to the half time break as they sent over 0-3 without reply to lead 0-5 to 0-2 at the interval.
In a match where scores were hard to come by, Peter O'Connell's inclusion just before the interval had a telling effect on the game, he sent over the opening point of the second half, was unlucky to see his punched effort from a high ball rebound off the crossbar to the safety of an awaiting Dunderry player and more importantly he was on hand to score the winning point. In a crowded midfield area John Barry O'Reilly led as captains are supposed to, he collected plenty of ball, made telling runs and he sent over an excellent effort to reduce the deficit to a single point on 40 minutes. The following 12 minutes produced plenty of exchanges but neither side could make any work for the scoreboard attendant and it wasn't until the 52nd minute that he was made work again when Dunderry sent over their only point of the second half. Two minutes later Ronan Cassidy sent over a fine effort after interplay involving Jamie Farrelly and Gary Dolan. St. Michaels now had the bit between their teeth and a Ronan Lynch effort levelled the match at 0-6 apiece on 57 minutes. It was anyone's game at this point and with it being a low scoring match the opinion was the next scorer wins and a minute later the St. Michaels supporters were in ecstasy as Ronan Lynch sent "over" a point which one umpire raised the white flag for, however following protests from the opposition, referee Gerry McGivney spoke to his umpires and disallowed the "point". The game was back in the melting pot and in the next passage of play Peter O'Connell popped up to send over the winning point from 30 meters out with a minute plus injury time left to play. Dunderry did have their chances to level the match in the remaining minutes but their efforts were well wide of the target. Dunderry supporters will be disappointed with their teams second half tally of just one point but St. Michaels deserved their win as when the chips were down they hunted in packs closing down their opponents, they produced a stirring second half display and showed greater hunger, composure and fitness to edge across the finish line.
St. Michaels team & scorers : Paul McCormack, Jamie Reilly, Sam Briody, Daithí Reilly, Mark Stafford, Philip Rogers, Ronan Cassidy 0-1, David Lynch, J.B. O'Reilly 0-1, Felim O'Reilly, Jamie Farrelly, Kevin Cassidy, Ben Farrell 0-1, John Farrell, Ronan Lynch 0-2.
Subs....Peter O'Connell 0-2 for Ben Farrell, Gary Dolan for Daithí Reilly, James Farrell for Mark Stafford.
Referee, Gerry McGivney.
Report by Pascal Reilly, St. Michaels.
Most Read Stories