IFC: Clann edge out Syddan
August 19, 2013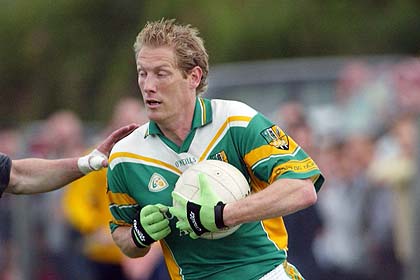 Clann Na nGaels Graham Geraghty
Clann Na nGael 1-9
Syddan 0-10
Clann Na nGael came away from Kilmainham on Sunday evening with a two point victory in the Meade Potato IFC.
This didn't look the case in the first half of the match as it took about 20 minutes for the Athboy men to register a score. Two points from Caoimhin O'Griofa before half time gave Clann Na nGael a chance to get back into the game.
They played second fiddle for the majority of the second half. They kicked a lot of wides in the first half but only went in two points down at half time. A goal from Gary Hanley after great work from Graham Geraghty and Ciaran Fitzsimons was the main turning point and set the Athboy men up to claim this victory. This was a hard fault game with two evenly matched teams. Clann Na nGael will now play Dunderry in their last group game.
Clann na nGael - 1.Trevor Wallace, 2.Carl Kelly, 3.Darren Kelly, 4.Gavin Browne, 5. Oran Fitzpatrick, 6. Darragh O'Griofa, 7. Aaron Ryan, 8. Brian Duffy, 9. Jamie Shaw, 10. Ronan McDonnagh (0-1), 11. Gary Woods (0-2), 12. Caoimhn O'Griofa (0-3), 13.Gary Hanley (1-1), 14. Graham Geraghty (0-2), 15. Ciaran Fitzimons. Subs - Aaron Ennis for Brian Duffy, Anthony Cully for Carl Kelly.
Most Read Stories