SFC: Skryne and Rathkenny share points
August 17, 2013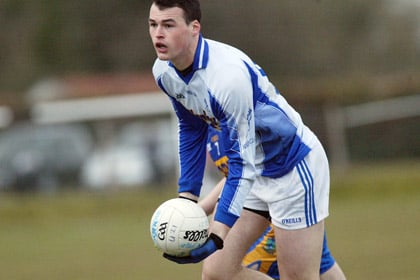 Skryne's Paddy O'Rourke
Skryne 2 - 6
Rathkenny 0 - 12
One of the most crucial games of the weekend was always going to be the Senior Football Championship match between Skryne and Rathkenny.
Played in Dunshaughlin on Friday evening in perfect conditions, and watched by a sizeable attendance, this match proved exciting right up until referee David McColdrick finally put an end to it after three minutes stoppage time was played out. These three minutes provided enough time for either side to fire home a winning point but although both sided had chances to do so neither did and so the match ended in a draw.
Rathkenny were first to trouble the scoreboard minder with a point after only thirty seconds. Conor O'Brien finally got Skryne of the mark with five minutes played.
Two minutes later David McGoldrick scored the first of three points from placed balls, two long range frees and a forty five. Paddy O' Rourke made it three points to one after eight minutes. Rathkenny cancelled this out two minutes later before McGoldrick scored from a forty five. On twenty one and twenty six minutes Rathkenny posted two minors to leave the score, with the break approaching, at four points each.
Then Skryne got the break they wanted when Paddy Fox gave a magnificent diagonal pass to Brian Davis who after beating his marker fired home for the first of their two goals. David McGoldrick scored from a second long range free of about fifty meters to leave the half time score at Skryne 1 - 5, Rathkenny 0 - 4.
It would be fair to say that most of the football in the second half was played by Rathkenny as the in-form man-of-the-match Brian Meade, fielded most of the kick-outs and paved the way for a Rathkenny revival. By the fifty first minute they had posted a total of seven points to go three in front.
Skryne didn't score in this half until Ciaran Lenehan, on fifty four minutes, made a blistering solo run down the field, passed to Paddy O Rourke, who finally got their first score of the half. With just two points in it Skryne upped their game and were rewarded when a loose ball, from some untidy defending, rolled to the feet of Ian Davis who finished to the net from close quarters.
Skryne were ahead again and time was running out. However Rathkenny were not about to throw in the towel and with the hour up fired over the equaliser. As already mentioned three minutes were added to the game for stoppages. One of these stoppages was when Brian Meade was helped off with a knee injury late in the second half.
Brian dominated the centre of the field for Rathkenny especially in the second half, and had he not sustained this injury, Skryne no doubt would have found it difficult in the closing stages to produce that final rally which lead to the decisive goal.
The result leaves Rathkenny on seven points and through to the knockout stages. While the point won is very valuable to Skryne they still have a lot of work to do to qualify. They remain at best in second place but depending on results later in the weekend that could be reduced back to third.
Final score Skryne 2 - 6; Rathkenny 0 - 12
Skryne F. O'Rourke, D Morley, M. Mulvany, C. Lenehan, D McGoldrick (3, 2f, 45), M Harrington, R. McCabe, A Tuite, H. Rooney, P. Fox, I Davis (1-0), M Battersby, B. Davis (1-0), P O' Rourke (2), C O'Brien(1). Subs K Mulvany for Battersby(44), N. Lenehan for Morley (45), K.O'Reilly for Tuite(50), J Jordan for O'Brien(55)
Most Read Stories