IFC: St. Ultans remain in contention
August 16, 2013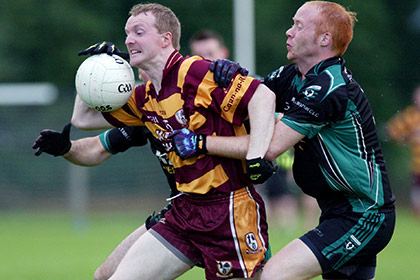 Paddy Nugent Carnaross with St Ultans Darren Mallon during the 2013 Meath IFC game at Kilmainham.
TO VIEW A SELECTION OF PHOTOGRAPHS FOR THIS GAME CLICK HERE
St Ultans kept their championship hopes alive with a one point victory over Carnaross at Kilmainham.
St Ultans 1-13
Carnaross 2-9
Ultans playing with the aid of the breeze started the better of the sides and were nine points to three ahead after twenty minutes and seemed to be heading for victory at this stage. However Carnaross converted a penalty and a pointed free left just two points between the sides at half time 0-10 to 1-5.
Pat Duffy's charges raced into a five point lead early in the second half thanks to a Ciaran Rogers goal. Carnaross replied with a goal from John L.McGee and a point to reduce the lead to a singe score. But St Ultans refused to panic and two points from Stephen Quirke had Ultans three points up with five minutes left. Carnaross added two late points to leave a single point between the sides at the final whistle.
Best for Ultans were Kevin Galligan, Paul Murray, Shane Rennicks and Jason Bennett.
Scorers for Ultans - Cian Rennicks 0-7, Stephen Quirke 0-3, Ciaran Rogers 1-0, Tony Smyth 0-2, Jason Bennett 0-1.
St Ultans - Rob Daly, Ciaran Timmons, Darren Mallon, Jason Bennett, Ronan Galligan, Daryl McLoughlin, Rob Duffy, Kevin Galligan, Paul Murray, Stephen Quirke, Shane Rennicks, Tony Smyth, Ciaran Rogers, Cian Rennicks, Darren Costello. Sub: Sean Herwood for Ciaran Timmons.
Referee Liam O'Brien
Carnaross 2-9
St. Ultans 1-13
Despite the miserable playing conditions Carnaross and St. Ultans served up a tight and entertaining tussle with the Bohermeen side emerging one point winners.
A poor first quarter proved costly for Carnaross who found themselves trailing by 0-6 to 0-1 after fifteen minutes as they struggled to get to grips with St. Ultans early pace. Patrick Nugent opened the Carnaross account but Carnaross could have been further behind but for a save from keeper Cillian Comaskey in a one on one situation. John L McGee and John Carpenter pointed for Carnaross but St. Ultans kept pushing on and added three more points to lead by six ten minutes before the break. However, Carnaross found a way back into the game when John L McGee was dragged down in the area and he netted the spot kick to leave three points between the sides. A point each from John L McGee and Patrick Nugent reduced the margin further but another point from St. Ultans left them leading by two at half-time, 0-10 to 1-5.
St. Ultans got the first point after the restart before Charles Brogan responded for Carnaross in the next attack. St. Ultans extended their lead to five points when they found the net but Carnaross hit back a minute later with a well taken goal from John L McGee. McGee reduced the margin to a point with a converted free. The game had now turned into a tight battle and this was reflected on the scoreboard as there was only one score over the next fifteen minutes, a point for St. Ultans. With five minutes remaining St. Ultans added another point to extend their lead to three. However, Carnaross refused to give up and a point from Colm McDonagh gave them hope as they went in search of a winning goal. They were awarded a close range free late on but John L McGee's goal attempt was diverted over the bar for what proved to be the last action of the game and ended their slim chance of qualifying for the knockout stages.
Carnaross: Cillian Comaskey; Tomás Plunkett, Peter Carpenter, John Plunkett; Eamonn Comaskey, Ian Donoghue, Liam Brogan; Charles Brogan (0-1), Michael Brogan; Shane Casserly, John L McGee (2-4), John Carpenter (0-1); Peter Mullan, Ollie Murphy, Patrick Nugent (0-2); Subs: Dean Connell for John Carpenter; Colm McDonagh (0-1) for Shane Casserly; Dermot McGee for Michael Brogan;
Most Read Stories