IFC: Gaeils goals blow 'Wood' away.
July 05, 2013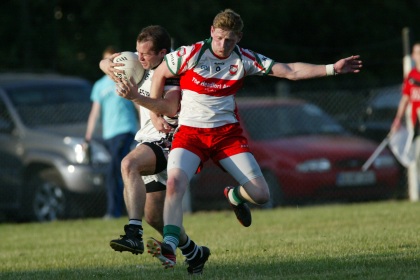 Gaeil Colmcille's Cormac Keegan tangles with Longwood's Rory Maguire during the Meath IFC game at Dunderry
Three goals were crucial for Gaeil Colmcille as they overcame the Longwood challenge in this tense Intermediate Football Championship game played in ideal conditions at Dunderry.
Gaeil Colmcille 3-5
Longwood 0-10
The Kellsmen got off to a flyer and were 1-1 to 0-0 up within five minutes of Gus Martyn throwing in the ball. Seamus Mattimoe kicked the games first point and this was quickly followed by the games first goal courtesy of Brian 'Beano' Hanlon. Mickey Burke and Ryan Moore replied with points from Longwood before Nick Weir's charges were stunned with another goal and a point. Hanlon raised a white flag before a great move was finished to the net by Danny McGovern. Moore finished the opening half scoring and Gaeil Colmcille went in at the break 2-2 to 0-3 ahead.
Moore, Rory Maguire and Karl Ennis traded points with Mattimoe and Hanlon before the games third goal arrived.The Longwood defence failed to deal with Keith Reilly's speculative shot and Seanie Curran was on hand to finish to the net. With fifteen minutes left Kells led 3-4 to 0-6 and a comfortable victory looked on the cards. But Longwood didn't give up a four unanswered points from Maguire (3) and Moore had the gap down to a goal. With Gaeil Colmcille's kicking some bad wides Jody Devines charges looked a little rattled until half back Barry Smith steadied the ship with the games final score.
Gaeil Colmcille now move up to second place in Group B behind St Colmcilles but the Bettystown men have a game on hand while Longwood have it all to do to qualify with two losses from as many outings.
Gaeil Colmcille scorers: Brian Hanlon 1-2, Danny McGovern and Seanie Curran 1-0 each, Seamus Mattimoe 0-2, Barry Smyth 0-1.
Longwood scorers: Rory Maguire and Ryan Moore 0-4, Mickey Burke and Karl Ennis 0-1 each
Referee Gus Martyn Dunderry
***
Kells report:
Gaeils get the better of Longwood
Gaeil Colmcille 3-05
Longwood 0-10
Gaeil Colmcille kept there championship hopes very much alive, with a hard fought four point win in Dunderry on Friday night last.
The Gaeils got off to the best possible startwith 1-01 after just three minutes, a point from Seamus Mattimoe and the goal from Brian Hanlon after a great pass from half forward forward Seanie Curran.
But the Kellsmen didn't capitalise on that and even though they got plenty of position they were wide of the target on several occasions Longwood got off the mark after eight minutes with a free and put just two between them shortly afterwards with a second free.
Hanlon put three between them with a free and the Kellsmen were back in buisness when Danny McGovern scored their second goal after a great passs from Martin Barett in the twenty second minute.
Longwood got the first point from play just comming up to half time leaving it 2-02 to 0-03 at the half time whistle.
Longwood started the second half with a free just at the restart, and it was going to be a dog fight from here on in. Jody Devine's men didn't panic. Great defending from the Kellsmens' backs disposing the Longwood attack on many occasions and points from Seamus Mattimoe and Brian Hanlon kept the Gaeils with six up.
Longwood to their credit kept plugging away with two more points just on the final quarter. Sub Keith Reilly sent in a long ball into the square and when Seanie Curran sent it to the net after the Longwood goalie failed to clear it. ]
Things look home and dry for the town team, this was a killer blow for Longwood, but they kept plugging away and brought it back to just three with three minutes left on the clock. Wing half back Barry Smith gave them the insurance point with a great effort just before the full time whistle sounded.
Gaeil Colmcille C Murray,J Quigley, M Foley, B Tormey, S Reddy, R Flanagan, B Smith (0-01) C Keegan, G Arkins (c) S McManus, S Mattimoe (0-02), S Curran (1-00), D Mcgovern, (1-00) M Barrett, B Hanlon (1-02). Subs: K Reilly for S McManus, J C Lynch for S Mattimoe, O Reilly for S Curran.
Most Read Stories