IFC: St. Michaels suffered their second defeat
June 04, 2013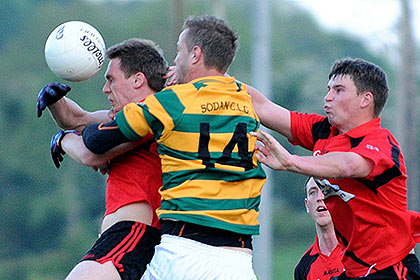 Mark Stafford and Sam Briody with Syddan's Brian Dillon during the Meath IFC game at Drumconrath. Photo courtesy of Pascal Reilly
St. Michaels 0-11,
Syddan 2-11
St. Michaels suffered their second defeat of this campaign after Syddan finished the better in this very competitive match played in ideal conditions in Drumconrath last evening. It was end to end football especially in the first half with the teams on level terms on no fewer than 4 occasions.
Syddan took an early lead and went 0-2 up after three minutes. A brilliant individual point from J.B. O'Reilly got the St. Michaels wheels in motion and it was soon followed by a David Lynch point to level the match for the first time. A Kevin Cassidy point put St. Michaels into the lead but Syddan were back on even terms on 12 minutes, then a minute later a high ball into the St. Michaels square caused some confusion as it came off the keeper onto the upright and into the hands of an inrushing Syddan player who gladly accepted the opportunity to send it to the back of the net for their first goal of the match. Ronan Lynch reduced the deficit with a pointed free on 15 minutes however Syddan restored their 3 point lead two minutes later. St. Michaels took control in the last 10 minutes of the half as points from Mark Stafford, J. B. O'Reilly and Kevin Cassidy had the teams on level terms but again Syddan hit back with a point on 29 minutes, a David Lynch point put St. Michaels back on level terms but Syddan added a further point to go in at the break 1-6 to 0-8 to the good.
St. Michaels were back on level terms when Kevin Cassidy pointed 4 minutes after the restart, a David Lynch free put St. Michaels back into the lead but two minutes later Syddan struck for their second goal, Paul McCormack in the St. Michaels goal made a brilliant block to Syddan's first effort but it rebounded to the eventual goal scorer and although Paul managed to get back onto his feet to block the second attempt but it came off the underside of the cross bar and into the net. The game was then held up for an hour as officials awaited the arrival of an ambulance and medical personnel treated Syddan's Cormac Rowe for a suspected broken leg on the pitch.
When the game restarted at 9pm ( throw-in was at 7pm ) it was as if Syddan had dedicated the remaining 18 minutes to their injured colleague because St. Michaels had no answers to what Syddan threw at them as they put five points on the scoreboard to St. Michaels sole point from Ronan Lynch.
ST. MICHAELS
Paul McCormack, Jamie Reilly, Sam Briody, Daithi Reilly, Patrick Clarke, Philip Rogers, Mark Stafford 0-1, J.B. O'Reilly 0-2, David Lynch 0-3, Johnny Reilly, Ronan Cassidy, Peter O'Connell, Ronan Lynch 0-2, John Farrell, Kevin Cassidy 0-3.
SUBS….Jamie Farrelly for Ronan Cassidy, Tommy Moriarty for Patrick Clarke, Ben Farrell for Johnny Reilly.
St. Michael GFC wish Cormac Roe a speedy recovery from his injury.
Report….Pascal Reilly St. Michaels.
Most Read Stories