IFC: St Ultans cause an upset
June 04, 2013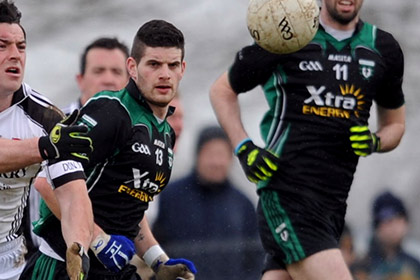 St Ultan's Stephen Quirke
St Ultans 0-10
Clann Na nGael 1-6
Pointless St Ultans caused the upset of the round when they lowered the colours of previously unbeaten Clann na Gael in this intermediate football championship match at sunny St Lomans Park, Trim on Friday evening. A victory for the Bohermeen/Martry combination looked unlikely early on as defensive errors allowed Clan na Gael take a 1-1 to 0-0 lead after 10 minutes. Shane Rennicks opened the scoring for St Ultans on 14 minutes they added three further points to trail by a single point 1-2 to 0-4 at half time.
The eventual winners back line tightened up considerably in the second half and with Kevin Galligan and Conor Smyth getting on top at centre-field the forwards started to pick of the necessary points to win the march. The best of their scores came from Man of the Match Stephen Quirke to level the match on 60 minus. Emmet Costello scored the winner in injury time others to impress fork St Ultans were Darren Mallon, Ciaran Timmons and sub Tony Smyth.
St Ultans Rob Daly, Ciaran Timmons, Darren Mallon, Jason Bennett, Ronan Galligan, Daryl McLaughlin, Gearoid Rennicks, Kevin Galligan, Conor Smyth, Stephen Quirke, Paddy McLaughlin, Emmet Costello, Cian Rennicks, Shane Rennicks, Darren Costello. Subs: Tony Smyth for Paddy McLaughlin, Mark Allen for Shane Rennicks.
Scorers for St Ultans - Stephen Quirke 0-3, Cian Rennicks 0-2, Tony Smyth 0-2, Emmet Costello 0-1, Shane Rennicks 0-1, Gearoid Rennicks 0-1.
Clan Na Gael came up short by the minimum margin in this hard fought game in Trim on Friday evening in lovely conditions. Two late scores from St. Ultan's claimed a valuable win for them. Clan Na Gael dominated the first twenty minutes of this game and got off to a good start with a well taken goal from Ciaran Fitzsimons. With player/Manager Graham Geraghty (after being a long time out injured) playing well on the 40, things were looking up for the Athboy men at that stage. But then St. Ultan's hit back with late scores in the half to leave the half time score Clan Na Gael (1-2) and St. Ultan's (0-4). The second half was very evenly contested with no quarter given. Clan Na Gael led by a point with 3 minutes to go when St.Ultan's struck with the last two scores. Best for Clan Na Gael Carl Kelly, Oran Fitzpatrick and Graham Geraghty.
1.Aaron Ryan 2.Carl Kelly 3.Darren Kelly 4.Ronan McDonogh 5. Oran Fitzpatrick 6.Brian Duffy 7. Darragh O'Griofa 8.Gary Woods (0-3) 9.Jamie Shaw 10. .Aaron Ennis (0-1) 11. Graham Geraghty (0-2) 12. Ciaran Smith 13.Gary Hanley 14. Ciaran Fitzimons (1-0) 15. Caoimhn O'Griofa. Subs: Shane McAnarney for Ciaran Smith.
Most Read Stories