SFC: Summerhill keep hopes alive
June 03, 2013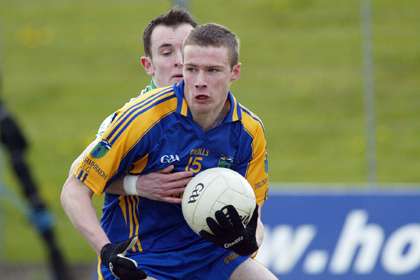 Barry Dardis of Summerhill
Summerhill 1-11
Oldcastle 0-9
Summerhill kept their quarter-final hopes alive with a five point win over Oldcastle in the third round of the Senior Championship in Athboy on Friday evening.
Barry Dardis' goal in first half injury time gave the 2011 champions a three point cushion at the break, a lead that they held until the final whistle
Both teams came into the game looking for their first points of the campaign. Oldcastle lost by six points to Rathkenny and two points to St Patricks in the previous rounds. Summerhill were defeated by a single point in both of their first two games; losing to Skryne in the first round and being stunned by Rathkenny in Páirc Tailteann on April 21.
Summerhill went into the game without the services of Davy and Sean Dalton who were both unavailable due to injury. Padhraig Geraghty took Davy Dalton's left half-back slot while Damien Byrne was brought into the forward line to replace Sean Dalton. Padraigh Jennings made his first senior championship appearance of 2013 filling in at right corner-back for Michael Gorman who dropped to the bench.
It was the North Meath men that started better and opened the scoring in the fourth minute with a free from number 11. Dardis got Summerhill's first point four minutes later from a Stephen Husband cross-field delivery. From the resulting kick-out, Summerhill claimed possession and David Larkin played Adrian Kenny through on goal but his effort hit the crossbar. Dardis could only put the follow up into the Oldcastle goalkeeper's hands.
It took nine minutes after Kenny's goal chance for another score to be registered. Brian Ennis made it 0-2 to 0-1 in Summerhill's favour when he pointed with his left foot in the 17th minute. This lead didn't last long as Paddy Gilsenan scored from a solo run on the left wing to level the game a minute later.
A free from midfielder Micheál Byrne managed to go over just inside the left post which left Summerhill a point to the good after 20 minutes, 0-3 to 0-2. Number 17 for Oldcastle drew his side level two minutes after Byrne's free at 0-3 each. Oldcastle went ahead in the 24th minute. Tony McDonnell failed to pick out a blue and gold shirt from a kick-out and instead found Oldcastle's number 13 who caught the ball and pointed to put his team ahead, 0-3 to 0-4.
Dardis restored parity a minute after when his shot went high over the bar from a Micheál Byrne pass. Within two minutes, Summerhill had overturned Oldcastle's advantage when Kenny scored after a turnover.
With six minutes left in the first half Stephen Husband was cautioned for a foul and Oldcastle's number 14 pointed straight in front of the posts. In the first minute of injury time, Summerhill got the game's only goal. Michéal Byrne's free found Dardis who turned his man and fired a left footed strike into the left corner of the net.
Dardis continued where he left off upon the resumption when he scored with his left foot to put four between the teams, 1-6 to 0-5. Paul Rispin pointed a minute later to stretch the advantage to five. A row occurred in the opening stages of the second half. When order was restored, Joey Curley consulted his linesmen at the town goals. Curley dismissed Summerhill substitute Michael Gorman and Oldcastle's Terence Farrelly for their involvement.
In the 39th minute, two Summerhill players prevented an Oldcastle goal. Goalkeeper McDonnell made a save and midfielder Conor Gillespie caught a ball on the goal-line. The next nine minutes was a barren spell for scores. Summerhill had three wides, dropped one chance short and a Rispin shot hit the post. Adrian Kenny got his sides next score with 12 minutes to play which left six in it, 1-8 to 0-5 in Summerhill's favour.
Oldcastle got their first point of the second half through a free from their number 14, his second of the evening. Ennis put his side six ahead again a minute later from a free. In the 55th minute Kenny brought his tally to three points when he turned inside and sent his effort over. Four minutes after, Oldcastle's number 14 brought his personal to 0-3 also. Bobby Lyons scored in the first minute of injury time when his effort was palmed over the bar by the Oldcastle number 1 who was unable to catch the ball.
Frees from Oldcastle's number 14 and number 11 in the 62th and 63rd minute respectively were the final scores of this third round encounter. Summerhill will hope to build on this victory in the remaining games against St Patricks and Donaghmore/Ashbourne. Oldcastle will hope to regroup in order to avoid an involvement in a relegation battle after their third consecutive defeat of this year's Senior Championship.
Summerhill: Tony McDonnell; Padraigh Jennings, Caolan Young, Willie Ryan; Stephen Husband, Alan Lyons, Padhraig Geraghty; Conor Gillespie, Micheál Byrne (0-1 f); David Larkin, Damien Byrne, Adrian Kenny (0-3); Paul Rispin (0-1), Brian Ennis (0-2 1f), Barry Dardis (1-3). Subs: Michael Gorman for Stephen Husband, Bobby Lyons (0-1) for Damien Byrne.
Oldcastle: C.Mc Hugh, B.Curran, C. McPartland, P.Lynch, D.Hawdon, R.McHugh. E.Gilsenan, P.Monaghan, S.Tierney, P.Gilsenan [0g.1pt.], N.Mangan,[0g.2pt] T.Farrelly, R.Farrelly,[0g.1pt] P.Rahill,[0g.4pt.], M.Cadden. Subs.R Packenham[0g.1pt] for P.Lynch.20 min., R.Lynch for R.Farrelly 50min. EMc.Namee for M.Cadden in 52min.
Most Read Stories