IFC: Carnaross lose to Dunderry
June 03, 2013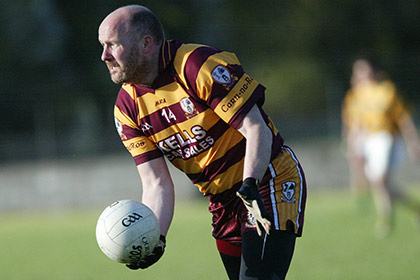 Carnaross goalscorer Ollie Murphy
Carnaross 1-4
Dunderry 0-11
A failure to convert the chances that came their way proved costly for Carnaross as they lost out by four points after a tough battle with Dunderry.
Dunderry set the early pace and had three points on the board before Charles Brogan opened the Carnaross account in the eighth minute. Dermot McGee added another point for Carnaross in the tenth minute but Dunderry pulled three clear after two points within the space of a minute. The game went through a period of ten minutes without a score but Ollie Murphy had the sides level after he pounced on a loose ball to divert it over the keeper eight minutes before the break. Carnaross then had a great opportunity for a second goal minutes later after Murphy put Shane Casserly through but his shot went the wrong side of the post. Dunderry converted a free before the half-time whistle to take a 0-6 to 1-2 lead.
Carnaross levelled soon after the restart when John Plunkett converted from play but Dunderry regained the lead with a free moments later. The game was now a very tight and physical affair which was reflected on the scoreboard with the sides only scoring a point each in a fifteen minute spell, with Dermot McGee hitting the target for Carnaross. Dunderry pointed again to take a two point lead with ten minutes to go. With two minutes remaining Carnaross were then given the chance to take the lead after being awarded a penalty, but the Dunderry keeper kept out Patrick Nugent's attempt. The failure to take that chance was punished as Dunderry added two more points in added time to claim the points.
Carnaross: Cillian Comaskey; Ian Donoghue, Thomas Nugent, John Plunkett (0-1); Peter Carpenter, Patrick Nugent, Eamonn Comaskey; Michael Brogan, Brian Comaskey; Stephen Flattery, Charles Brogan (0-1), Shane Casserly; Dermot McGee (0-2), Ollie Murphy (1-0), Peter Mullan; Subs: John Carpenter for Peter Mullan; Liam Brogan for Shane Casserly; Peter S. Farrelly for Stephen Flattery; Stephen Flattery for Peter S. Farrelly (injury);
Most Read Stories