IFC: Impressive Ratoath see off Ballinlough
June 01, 2013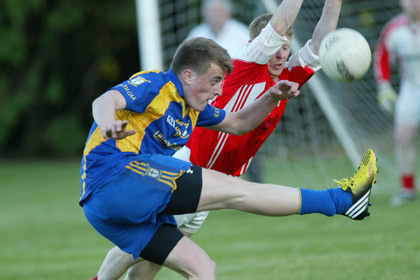 Ratoath's Conor Rooney
An emphatic display from Ratoath saw them secure an eleven point victory over Ballinlough in this intermediate championship encounter played in Castletown on Friday evening.
Ratoath: 2-11
Ballinlough: 0-6
Ratoath proved why they are favourites for this years intermediate championship, with a clinical display against a Ballinlough side who struggled to match the speed and intensity of their opponents.
A tight opening to the match saw the sides tied at two points a piece, after good scores by Peadar Byrne and James Baugh for the 'Lough. However, Ratoath soon found their rhythm and managed to build up a 0-7 to 0-3 advantage, with fine scores from Bobby O'Brien (2), Eamonn Wallace, Gareth Rooney (2), Bryan McMahon and Gavin Quigley, going in to the change of ends. There could have been a wider margin between the sides, but for some wayward shooting by the leaders.
Ballinlough needed to really up their game in the second half, but it got off to the worst possible start after Ratoath picked up two quick-fire goals. O'Brien stole in for the first and Eamonn Wallace sealed the win with their second green flag. Ratoaths superior fitness and speed began to show as they continued to attack the Ballinlough goal, with Bryan McMahon and Bobby O' Brien particularly impressive in attack along with the Ronney's Conor and Gareth, and Robbie Madden a commanding figure around the middle of the field.
Byrne converted a further two frees for the 'Lough, but it proved to be too little too late, in what was a disappointing day for the North Meath men.
Ratoath scorers: Bobby O'Brien and Eamonn Wallace (1-2) each, Gareth Rooney (0-3), Conor Rooney (0-2), Bryan McMahon and Gavin Quigley (0-1) each
Ballinlough: K. McGuinness, R. Farrell, P. Muldoon, B. Smith, R. McGuiness, K. Devine, J. Baugh, Cian Mallen, N. Farrelly, S. Geraghty, P. Byrne, T. McCullen, M. McCullen, K. Mallen, Colm Mallen. Subs: J. O'Reilly for N. Farrelly, M. Geraghty for T. McCullen, G. Reilly for Colm Mallen.
*****
Ratoath report:
Rath tó 2-11 Ballinlough 0-6
Ratoath strolled to a comfortable win with an 11 point victory over Ballinlough played on a dry evening in Castletown last night.The game started with little between the teams with points from Eamonn Wallace,Bryan Macmahon and Gavin Quigley being answered by scores of their own from the opposing side.After twenty minutes Ratoath were leading 0-4 to 0-3 at which stage they moved up a gear and put another 3 points on the board without reply before half time. Ballinlough were getting little change from the Ratoath defence well marhsalled by Stephen o'Brien. Despite leading 0-7 to 0-3 Ratoath were guilty of some glaring misses and hit as many wides as scores in that opening half-something that would become even more apparent in the second half.
A mere 30 seconds after the interval Eamonn Barry's charges sprung out of the traps with a well taken goal from Bobby O'Brien after good work from MacMahon. Another opportunist goal,10 minutes later this time from Wallace and further points from Gareth & Conor Rooney put the game beyond reach for their opponents.Strangely though for the last 15 minutes of the game only 1 point was scored by the victorious side. Some poor wides ,15 in total over the 60 minutes, mostly from placed balls was frustrating to watch from the Ratoath supporters in attendance.Whilst the management team will be pleased that we scored 2-11 from play they will be concerned that so many frees were missed with 4 different players used and none able to convert the relatively easy chances that presented themselves.That said their unbeaten record remains intact and know they will need to be more economical in bigger challenges that lie ahead .Best for Ratoath were Eamonn Wallace,Gareth Rooney,Stephen O'Brien,Emmet Boyle,Darragh MacGill and Bobby O'Brien
Foireann Rath Tó: Andrew Smith,Paul Flaherty,Conor MacGill,Daragh MacGill,Gavin Quigley(0-1),Stephen O'Brien,Emmet Boyle,Brian Power,Cian O'Brien,Eoin MacMahon,Gareth Rooney(0-3),Conor Rooney (0-2),Eamonn Wallace(1-2),Bobby O'Brien (1-2),Bryan MacMahon(0-1) Subs Daire O'Brien for Eamonn Wallace(inj)
Most Read Stories