SFC: Rathkenny deny Donaghmore Ashbourne
May 31, 2013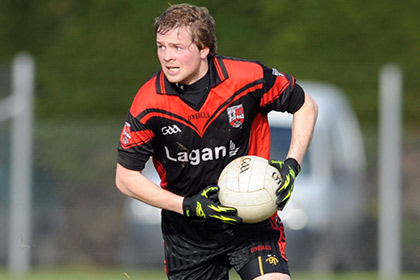 Rathkenny's Ivan Lenehan
The men from Rathkenny have come up with the goods yet again with another spirited display in this 3rd Round Meath Hoganstand.com Senior Football Championship game played in sunny Simonstown last Thursday evening, May 30th.
Rathkenny 1-12
Donaghmore Ashbourne 1-10
Rathkenny played with the slight wind advantage in the opening half and sent over the first score of the game as Donal Curtis pointed on three minutes. Donaghmore Ashbourne replied with two points of their own to lead on seven minutes. It was the only time Rathkenny were headed. Rathkenny owned the scoreboard for the next thirteen minutes with four points. Owen Elliott sent over a great score followed by Jack Gore with the right boot. Brian Meade then sent over a great long range point on the quarter hour mark. Brian Lenehan sent over from a free and Rathkenny lead by three on twenty minutes. Donaghmore Ashbourne kicked over their third point on 24 minutes as Rathkenny custodian John Martin produced a great save to tip a rasping shot over the bar. In the final five minutes of the half Rathkenny sent over three scores from Donal Curtis, Brian Meade and Ivan Lenehan following a great move to lead 0-8 to 0-3 at the interval.
An opening salvo of 1-1 for Donaghmore Ashbourne left the minimum between the teams on thirty four minutes. The men in Red and Black dug deep and with scores from Brian Lenehan (free) and a great point from substitute Christy Meade from the right wing settled the nerves as the lead went to three. The men in green sent over on forty two minutes before Jack Gore added another great score after a great run down the byeline. Donaghmore Ashbourne then hit three on the bounce to level matters and it was in the melting pot with eight minutes left on the clock. The games deciding score came as Rathkenny attacked down the left wing and after a series of quick passes, substitute John Donegan rifled home with the left and Rathkenny were three up with seven minutes remaining. Once again the men from Ashbourne brought it back to the minimum with four minutes left. Brian Lenehan sent over a great 45 as we approached injury time. Rathkenny showed great experience in playing possession football to run down the clock and bring home the valuable points.
Rathkenny - J. Martin; Joe Gore, J. Macken, R. Martin; D. Donegan, D. Keogan, R. Gore; B. Meade (0-2), R. Curtis; B. Lenehan (0-3), I. Lenehan (0-1), Jack Gore (0-2); D. Curtis (0-2), S. McCabe, O. Elliott (0-1) Subs J. Donegan (1-0) for McCabe, C. Meade (0-1)
Most Read Stories