SFC: St. Peters take the spoils against BHG
May 31, 2013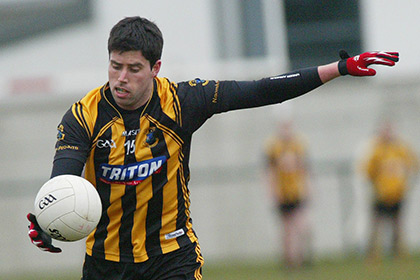 Dunboyne's David Geaney
St. Peters Dunboyne were comfortable winners in Round 3 of the Meath SFC against Blackhall Gaels on a scoreline of 0-14 to 1-5 played in wonderful conditions in Summerhill.
Dunboyne were quick out of the blocks and even with playing against a slight breeze quickly had two points on the board through David Geaney one of which was an excellent 45 which sailed over the black spot.
St. Peters were attacking at ease early on with Blackhall struggling a bit to go the pace and Colin Clarke sent over a fine solo effort on the outside of the right boot and not long after Donal Lenihan had taken his first score nicely to give Dunboyne an early 4 point lead. Blackhall were limited going forward with only two points in the first half one being a finely taken free before Dunboyne tagged on two more scores from the impressive Geaney and Lenihan.
The second period started pretty much the same as the first as Dunboyne looked to extend their advantage playing with the wind and it wasnt long before Lenihan and a disputed Gary Watters effort which was eventually given by the linesman after some confusion with the umpires had them 6 points to the good. Not much seemed to change with Blackhall in the second half as their final ball seemed to let them down on a few occasions and when Dunboyne did get it back they were quick to take their chances with two more points from Colin Clarke and a 45 from Kerry native Geaney. This left Dunboyne 8 points to the good before they hit a stale patch in which a ball bounced along the box to be converted to give Blackhall some hope and quickly after they had another point to leave only 4 between the sides.
Dunboyne always looked comfortable and in the closing period secured points from Colm Brennan, two more for Geaney and a last minute free from subsitute Ger Robinson to take the points in this Round 3 encounter.
St. Peters Dunboyne lined out as follows: 1. Johnny O'Connor 2. Gary Timoney 3. Damien Sweeney 4. Stephen McKenna 5. Cathal Finn 6 Shane McEntee 7. Gary Watters 8. Sean McGarrell 9. David Gallagher 10. Barry Comer 11. David Geaney 12. Colm Brennan 13. Colin Clarke 14. Stephen Moran 15. Donal Lenihan. SUBS USED: Conor Doran, Ger Robinson & Johnny Meehan
SCORERS: David Geaney 0-6 (2 45's 1f), Donal Lenihan 0-3, Colin Clarke 0-2, Ger Robinson, Gary Watters & Colm Brennan all 0-1 each
Best for Dunboyne were Colin Clarke, Stephen McKenna & David Gallagher
Most Read Stories