SFC: Blackhall recover to down Na Fianna
April 29, 2013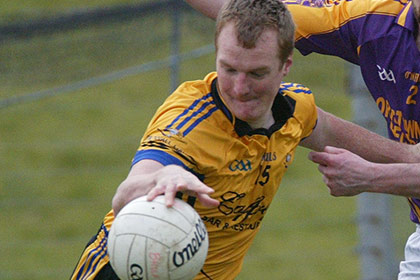 Blackhall Gaels Sean Whelan
Blackhall Gaels 1-12
Na Fianna 0-12
With barely five minutes on the clock many thought this game was heading for a cricket scoreline. A gale force wind had helped Na Fianna in to a five point to no score lead, their forwards were enjoying some shooting practise and Blackhall were struggling to get the ball over the halfway line.
Such was the the onslaught of attacking by the Baconstown outfit that Tommy Dalton in the Blackhall goal kicked the ball out seven times in the opening six minutes. It was an evening where kicking into the breeze was a last resort and thats where Blackhall made their progress in this Hoganstand.com Senior Football Championship tie in a windswept Summerhill.
Fortunes were the exact opposite for the teams coming into this Group C round Two encounter. Na Fianna had surprised many critics with an opening round win against a fancied Dunboyne side and the opening minutes of this encounter showed signs of a team with something to prove, that they belonged in Meath's top flight of championship football. Blackhall Gaels on the other hand had suffered an disheartening opening round defeat to beaten 2012 finalists Wolfe Tones on a day where the Kilberry men were there for the taking.
The Friday night light was supplied by a blinding sun in Summerhill. Na Fianna got off to the perfect start with two points in the opening minute. Daniel Queeney finding his range from distance on his favoured left boot, Queeney again split the posts to make it 4-0 on four minutes. Before Blackhall had got a hold on the ball they were 5-0 down and already had a mountain to climb. Sean Whelan settled things slightly for Blackhall when he dispatched a placed ball. Jamie Queeney then struck a point from close to halfway to but five between them again. Johnny Meyler closed out the first quarter with a fine point from play after good work from Mark Mullally in the corner set him up.
Both teams traded points with Sean Whelan firing over as Blackhall's midfield pairing of Paddy O'Brien and Meyler start to get the upper hand, Although their backs were struggling to contain the Queeney brothers as again Daniel and Jamie kept Na Fianna ahead to make it 9-3. Jamie Queeneys point bizarrely waved wide by one umpire but referee Cormac Reilly judged the ball to be over and the score stood. Whelan again kept the Blackhall score ticking over with another placed ball before Denis Beirne struck a point while being fouled but Reilly allowed the advantage and the score to stand. This spurred on the Kilcloon/Batterstown side as Whelan converted another free and then a beautiful outside of the boot effort from Alan Nestor but Blackhall within touching distance of Na Fianna at 9-6. Na Fianna finished the half with a Dean Barrett point to leave four between the teams.
An early Whelan free was the first score of the second half. Both teams would trade wides before a three minute period of play turned the game on its head. Blackhall were reduced to fourteen when Tadhg Brosnan was given his marching orders. But as tensions flared it was Blackhall who took full advantage when Stephen Morris found the net with a rasping shot off the crossbar. The Meath Hurler getting on the end of a Denis Beirne pass to put Blackhall on level terms for the first time in the game, that was quickly followed by another Whelan point to put them into the lead at 1-8 to 10. Blackhall introduced fresh legs as Dermot Carty came in for Sean Rattigan.
Both teams hit wides as the game entered the last quarter before a fantastic piece of fielding by Paddy O'Brien put John Kelly through for another Blackhall point. Na Fianna would then found themselves down to fourteen when their half back received his second yellow card for a high challenge on Whelan. Nestor kicking the score of the evening with a beautifully weighted free. As time ticked down Na Fianna kept plugging for a goal. Blackhall's back line of Declan Dalton, Dan Carty and Conor Delany kept them at bay. Whelan would kick two more points, a free and another from play that Cormac Reilly had to come to the aid of the umpires.
With five minutes remaining and Na Fianna five points down they desperately tried to get back into the game. A deflected point that was goal bound proved to be Na Fianna's first score of the second half on 57 minutes. Jamie Queeney converted a free in time added on to leave a goal between the teams. As Na Fianna pressed again Blackhall held strong turning over the ball in their square before the referee blew the full time whistle.
Blackhall Gaels: T.Dalton, C.Delany, D.Dalton, D.Carty, S.Morris(1-0), C.McElligott, J.Kelly(0-1), J.Meyler(0-1), P.O'Brien, S.Rattigan, T.Brosnan, D.Beirne(0-1), A.Nestor(0-2,) M.Mullally, S.Whelan(0-7)
Na Fianna 0-12
Blackhall Gaels 1-12
Na Fianna had their second game of this year's SFC against Blackhall Gaels in Summerhill on a good spring evening. Na Fianna got off to a brilliant start and quickly went 5 points ahead with points from Dalton McDonagh (2), Dan Queeney (2) and Conor Downey. Shane Barrett was a big loss after only five minutes with a hamstring problem and he was dearly missed as Na Fianna seemed to have no cutting edge up front. Seán Whelan registered Gaels first score with a pointed free before Jamie Queeney put five between the sides with a brilliant free from inside his own half. Na Fianna were putting serious pressure on Gaels and were left to rue missed chances especially a good goal chance for Dan Queeney but his attempted through ball for Harrison Silke was just to far. Jonathan Meyler and Whelan brought Gaels back into it but a Silke point in between kept Na Fianna ticking over. McDonagh and Jamie Queeney put daylight between the sides before Gaels put on some sustained pressure. Three points from Whelan, Denis Beirne and Alan Nestor brought it back to 4 points. Micheal Farley got the first yellow card of the game for a mistimed challenge late in the second half. Dean Barrett got the score of the half to leave it at Na Fianna 0-10 Blackhall Gaels 0-06.
The second half had a much higher tempo and within five minutes Gaels lost their captain, Tadhg Brosnan, to a red card. But Gaels looked the more lively and Stephen Morris brought them level with a goal on 40 minutes. Whelan put them ahead through a free before Rattigan made it two in the difference. Alibhe Mahon replaced Patrick Haslam before Farley saw red for a second yellow. From here on in Gaels never looked like losing and Nestor further extended their lead with a free before Whelan got another two from frees. Dean Henrick and Jamie Queeney got mere consolation points as Na Fianna suffered their first loss of the senior championship.
Na Fianna: Shane Geraghty; Diarmuid Bailey, Christy Cosgrave, John Baldwin; Michael Farley, Tommy Cosgrave; John O'Lone, Jamie Queeney (0-2), Brian Queeney; Daniel Queeney (0-4), Dean Barrett (0-1), Conor Downey (0-1), Harrison Silke (0-1), Shane Barrett, Dalton McDonagh (0-2).
Subs - Patrick Haslam for Shane Barrett, Alibhe Mahon for Patrick Haslam, Dean Henrick (0-1) for John O'Lone.
Blackhall Gaels: Tommy Dalton, Conor Delaney, Declan Dalton, Daniel Carty, Stephean Morris, Colm McElligott, John Kelly, Jonathan Meyler, Paddy O'Brien, Seán Rattigan, Tadhg Brosnan, Denis Beirne, Alan Nestor, Mark Mullally, Seán Whelan. Subs- Dermot Carty for Rattigan.
Most Read Stories