IFC: St. Michaels lose to Clanns
April 29, 2013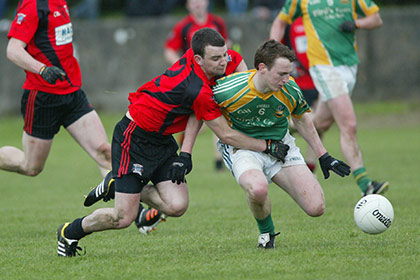 David Lynch St Michaels with Oran Fitzpatrick Clann Na nGael during the Meath IFC game at Kells.
ST. MICHAELS GFC
Sunday April 28th 2013
IFC Group A.
St. Michaels 0-8
Clan na nGael 0-10
Played in Kells.
Half time St. Michaels 0-5, Clann na nGael 0-4
Clann na nGael put in the better second half display and were more clinical in front of the posts as they secured the points in this evenly contested match in Kells on Sunday afternoon. St. Michaels tally of 2 points from play, one in each half was a poor return for over an hours work and will need to be improved upon before the next round of the competition. The sides were level on four occasions as scoring was at a premium throughout as the strong cross field wind and frequent heavy showers made conditions difficult and left the outcome of the match in doubt right up to the final whistle.
St. Michaels made the better start and were 3 points to the good with J.B. O'Reilly opening the scoring together with two pointed frees from Ronan Lynch before Clan na nGael opened their scoring on 7 minutes. Clan na nGael reduced the deficit to the minimum on 11 minutes and were afforded the opportunity to go into the lead midway through the half after their forward was adjudged to have been brought down in the square but the penalty shot was brilliantly saved by Paul McCormack in the St. Michaels goals, that save should have inspired and lifted his team mates to better things but it was not to be and it was Ronan Lynch who stretched his sides lead with a further pointed free on 17 minutes, Clan na nGael tagged on two points to be on level terms with 8 minutes of the half remaining, but then the scoring dried up for both teams as Ronan Lynch's fourth pointed free of the half in the second minute of added time edged his team into a slender 0-5 to 0-4 interval lead.
Clan na nGael were on level terms 3 minutes after the restart and went into the lead 5 minutes later, Ronan Lynch tapped over another placed ball to level the match on eleven minutes, both sides exchanged points to level the match with 10 minutes remaining, then another brilliant save by Paul McCormack kept his side in the game as the winners began to take control, they then added two points without reply to go two up, St. Michaels added their last point on 56 minutes to reduce the deficit to a single point but with a minute remaining on the clock Clan na nGael got their insurance point for a valuable two points.
ST. MICHAELS
Paul McCormack, James Farrell, Mark Stafford, Jamie Reilly, Gary Dolan, Sam Briody, Ronan Cassidy, J.B. O.Reilly 0-1, Felim O'Reilly, Peter O'Connell, Jamie Farrelly, David Lynch, Kevin Cassidy, John Farrell, Ronan Lynch 0-7. SUBS….Patrick Clarke for Peter O'Connell.
Referee…. John Farrelly.
Most Read Stories