IFC: Four-point win for Ratoath
April 15, 2013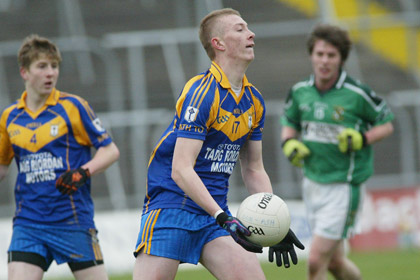 Ratoath's Brian Power
Rath To 3-9
Castletown 3-5
Ratoath battled to a well deserved 4 point win in Skryne over their Castletown opponents. This game was played in heavy,blustery conditions but despite that Ratoath in particular played some delightful football particularly in the second half.
Nevertheless scores were hard to come by with a succession of bad wides meant that it was Castletown who went in at the half time break 4 points to the good.Ratoath's goal scored by Bryan McMahon midway through the first half established his team's foothold in the game albeit this was quickly countered by a second Castletown goal .Ratoath had the better of the remainder of the half but failed to convert their dominance into scores on the board with 9 wides totted up in the first 30 minutes
Half time score was Castletown 2-3 Rath Tó 1-2
Ratoath quickly found their range in the second half with points from Eoghan and Bryan MacMahon and this was soon followed by a fine solo effort after a 60 yard run by Meath senior,Eamonn Wallace. Despite the concession of another sucker punch goal by Castletown within a minute of Wallace's goal.Ratoath soon regained the initiative and tagged on the next two points. With man of the match Cian O'Brien pulling the strings at midfield Ratoath eventually went in front with 12 minutes to go in the game with a clinical finish to the net by Gareth Rooney. Further points from MacMahon and Gavin Quigley ensured a comfortable win in the end for Ratoath
Other notable performers for Ratoath were Bryan MacMahon, Conor MacGill, Gavin Quigley, Brian Power and Eamonn Wallace
Foireann 1.
Andrew Smith 2. Stephen O'Brien 3. Daragh MacGill 4 Paul Flaherty 5 Gavin Quigley(0-2) 6 Conor MacGill 7 Emmet Boyle 8 Cian O'Brien (0-1) 9 Brian Power 10 Eamonn Wallace (1-1) 11 Gareth Rooney (1-0) 12 Eoghan MacMahon (0-1) 13 Bryan MacMahon (1-3) 14 Bobby O'Brien 15 Conor Rooney(0-1)
Most Read Stories