SFC: Walterstown goalfest stuns Nobber
April 14, 2013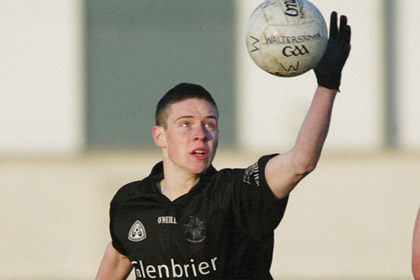 Walterstown's Ruairi O'Dowd
Walterstown 3-07
Nobber 0-08
Walterstown settled into this game the quickest and raced into a four point lead with points from David Donnellan, Mark McCormack and two points from Tom Walsh.
Nobber responded with two points from Brian Farrell then Walterstown registered their first goal from Ruairi O'Dowd following a good pass from Alban Crosbie. The second Walterstown goal arrived straight after from Donnellan after Crosbie caused trouble in the Nobber defence following a high delivery in and Donnellan was there to gather the ball and finish the ball low into the net. Brian Farrell then registered a free for Nobber and the last score of the half went to Crosbie from a free to leave the half time score Walterstown 2-05 Nobber 0-03.
Nobber started the second half the brightest and got the first three points of the half before Crosbie registered a point from a free. Brian Farrell then scored a point for Nobber before the killer goal from Walterstown arrived through substitute Cathal Hennelly following a good pass from Donnellan. Crosbie then registered a free the last point of the game went to Nobber.
Walterstown: J Davis, P Reynolds, D Reynolds, S O'Keefe, M McCormack 0-01, D Maguire, R Reynolds, T Walsh 0-02, C Sullivan, R Barry, P Donnellan, A Reynolds, D Donnellan 1-01, A Crosbie 0-03, R O'Dowd 1-00. Subs: C Hennelly 1-00 for O'Dowd, J Farrelly for Barry.
Most Read Stories