IFC: Winning start for St Michaels
April 13, 2013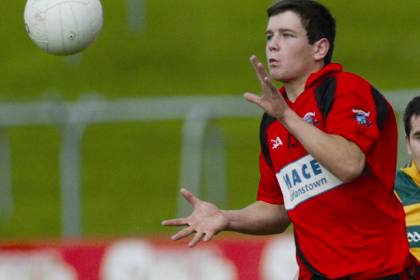 Ronan Lynch St Michaels
St. Michaels 0-13
St. Ultans 1-3
Played in Carnaross
Half time St. Michaels 0-6, St. Ultans 1-2.
On a perfect evening for football in Carnaross, St. Michaels got their Meade Potato & Co Intermediate championship campaign off to a winning start with a thoroughly deserved victory over St. Ultans last evening. The winners closed out the 2008 champions for most of the 60 minutes, in particular in the second half when they restricted them to just a single point which came from a free midway through the half.
From the off, this young St. Michaels outfit were more clinical and looked the more confident and in-form side. They started strongly when J.B. O'Reilly won the ball at midfield and set Jamie Farrelly up in the opening seconds for their first point. Kevin Cassidy added the second four minutes later. Then came what should have been an inspirational score for St. Ultans when a high lobbing ball from 45m out caught the St. Michaels keeper Paul McCormack off his line and crept in just under the crossbar for St. Ultans opening score which put them a point to the good. St. Michaels however kept their cool and tagged on 3 unanswered points from David Lynch, Ronan Lynch and Jamie Farrelly to go 0-5 to 1-0 up after 16 minutes. By this stage the combination of powerful running by Gary Dolan and Ronan Cassidy, the pace of Ronan & David Lynch and Kevin Cassidy and the fetching ability of the O'Reilly brothers J.B. & Felim, Jamie Farrelly, Peter O'Connell and John Farrell were causing all sorts of problems for the St. Ultans defensive system.
Kevin Cassidy posted the winners last point of the half on 18 minutes after Gary Dolan carried the ball from defence to lay it off to Kevin who calmly popped it over the bar, St. Ultans raised two more white flags on 17 and 26 minutes to leave just the minimum between the sides 0-6 to 1-2 in favour of St. Michaels who in truth should have been much more comfortable at the interval after having dominated the majority of the first half possession, they passed up on a couple of goal chances and shot wide on several occasions, a failing that will no doubt need to be improved upon before the next round.
St. Michaels started the second half brightly with points from Ronan Lynch and Jamie Farrelly, St. Ultans however hit a purple patch on 43 minutes when they enjoyed a ten minute spell of dominance as their opposition went into sleep mode they held them scoreless and reduced the deficit to just two points after converting a free, but that glimmer of hope was soon extinguished as they continually misfired in front of goal and struggled to make any in-roads against a resolute St. Michaels defence led by James Farrell, Jamie Reilly, Mark Stafford, Gary Dolan, Ronan Cassidy and Sam Briody. A brilliantly taken point from J.B. O'Reilly from along the sideline turned the tide back in St. Michaels favour and 3 more points from Ronan Lynch 0-2 and J.B.O'Reilly again had them back on track and it was Ronan Lynch who rounded off the scoring when he floated a beautiful point over the bar with virtually the last kick of the game to put the seal on a well earned victory for St. Michaels. Tom Halpin and his selectors will have been delighted with the performance from his team last night and is entitled to draw positives from the match but they will also be well aware that stiffer opposition lie in waiting and will use this game as a stepping stone for hopefully greater things ahead.
ST. MICHAELS: Paul McCormack, James Farrell, Mark Stafford, Jamie Reilly, Gary Dolan, Sam Briody, Ronan Cassidy, Felim O'Reilly, J.B. O.Reilly 0-2, Peter O'Connell, Jamie Farrelly 0-3, David Lynch 0-1, Kevin Cassidy 0-2, John Farrell, Ronan Lynch 0-5. SUBS….No subs used.
St Ultans Report
St. Ultans lost the battle of the saints in this opening round of the IFC at Carnaross on Friday evening. Ultans conceded two early points before a Stephen Quirke goal on 7 minutes put them ahead for the first and only time in the match. The first half was even enough with just a point separating the sides at half time Michaels 0-6 Ultans 1-2. Kevin Galligan got Ultans only score in the second half to leave just two points between the sides at the three quarter stage. However Michaels finished strongly to leave the final score Michaels 0-13 Ultans 1-3. Kevin Galligan was Ultans best player. He was well supported by Ciaran Timmons and sub Eugene Brady and youngsters Sean Herward, Ronan Galligan, Tony and Conor Smyth.
Scorers for Ultans - Stephen Quirke 1-0, Kevin Galligan 0-2, Gearoid Rennicks 0-1.
St Ultans - Rob Daly, Ciaran Timmons, Darren Mallon, Jason Bennett, Ronan Galligan, Sean Herward, Darren Costello, Kevin Galligan, Paul Murray, Gearoid Rennicks, Daryl McLaughlin, Conor Smyth, Emmett Costello, Stephen Quirke, Tony Smyth. Subs: Eugene Brady for Conor Smyth, Shane Mulroe for Emmett Costello, Mark Allen for Tony Smyth, Conor Smyth for Paul Murray.
Referee: Paul Mooney, Syddan
Most Read Stories