SFC: Surprise win for Dunshaughlin in opener
April 12, 2013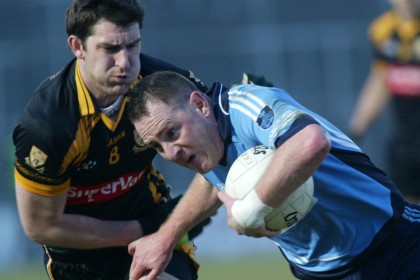 Dunshaughlin's John Crimmins with Simonstown's Joe Lyons during the opening round of the hoganstand.com Meath SFC at Pairc Tailteann
Dunshaughlin produced a strong showing to surprise Simonstown in this hoganstand.com SFC opener at Pairc Tailteann on Friday night.
Dunshaughlin ...... 0-17
Simonstown ......... 1-9
Dunshaughlin's win in this Group C fixture was founded on a tenacious defence allied to a prolific attack. In addition the manner in which they responded to the concession of the game's only goal is another positive they can draw from this fixture.
All bar four of the winners' scores came from play with Conor Devereux leading the way in that department with five such scores.
Dunshaughlin managed just one point from a possible ten in last year's campaign that included a 0-17 to 2-19 reversal against Simonstown in round four.
A similar tally this time saw Dunshaughlin prevail by five points to give new manager - former Dublin defender Paddy Christie - a winning start at the helm in a Meath SFC clash.
Simonstown lost midfielder Conor Sheridan six minutes in with the fixture still scoreless while the scores were tied on just one occasion subsequently.
In the second minute a sweeping Simonstown move almost ended with the competition's opening score. Pauric McKeever shot low and wide at the hospital end having been placed by Shane Barry.
Dunshaughlin opened the scoring in the eighth minute when Cathal O'Dwyer pointed a close range free.
A fine Sean Tobin effort levelled matters before a brace of O'Dwyer points from play moved Dunshaughlin 0-3 to 0-1 clear heading into the second quarter.
By the 20th minute Dunshaughlin were 0-6 to 0-1 ahead with O'Dwyer and Toolan (two) leading the way. Then the black and ambers' number 15 notched his fifth score of the half.
Conor Devereux became the fifth Dunshaughlin man to register and seven separated the sides with 26 minutes gone.
Simonstown rallied in the run-in to half-time with a trio of points from Andrew Kearney, Mark McCabe and a magnificent Sean Tobin effort from a 55-metre free to cut the gap to four points.
In the fourth minute of stoppage time Toolan pointed a free with the last action of the half to leave Dunshaughlin 0-9 to 0-4 at the break.
Within two minutes of resumption, Fearghal Delaney became Dunshaughlin's fourth scorer. However,
Simonstown's hopes were revived in the 36th minute when Seamus Kenny flicked to the net with assistance from Kearney and Joe Lyons to leave it 1-4 to 0-10.
The gap was soon down to two when Kearney registered with another free. Dunshaughlin responded with five of the next six scores to set up a merited success.
When Caoimhin King pointed in the 57th minute Dunshaughlin were six points clear again. Late scores from Pauric McKeever and Kearney (free) softened the look of the scoreline from Simonstown's perspective.
Scorers : Dunshaughlin - Cathal O'Dwyer 0-6 (2fs|) ; Conor Devereux 0-5; Fergus Toolan 0-3 (2fs); Fergal Delaney, Caoimhin King, Tommy Johnson 0-1 each.
Simonstown - Andrew Kearney 0-4 (2fs); Seamus Kenny 1-0; Sean Tobin 0-2 (1f); Mark McCabe, Stephen Moran, Pauric McKeever 0-1 each.
Dunshaughlin - Ronan Gogan; Alastair Doyle, Kenny McTigue, Michael Ahern; Tadhg O Dubhshlaine, Tommy Johnson, Caoimhin King; John Crimmins, Ray Maloney; Fergus Toolan, Trevor Dowd, Fearghal Delaney; Conor Devereux, Martin Reilly, Cathal O'Dwyer. Sub - Liam Ormsby for Delaney (57).
Simonstown - Ronan Duffy; Shane McGivney, Ian O'Rourke, Stephen O'Reilly; Seamus Kenny, Eanna Donoghue, Niall McMahon; Conor Sheridan, Pauric McKeever; Stephen Moran, Joe Lyons, Mark McCabe; Sean Tobin, Shane Barry, Andrew Kearney. Subs - Colin Wickham for Sheridan (6), Declan Gaffney for Barry (ht), Mark Gardiner for O'Reilly (56).
Referee - Patrick Neilis (Kilmainham)
****
Dunshaughlin report:
Dunshaughlin 0.17
Simonstown Gaels 1-09
Dunshaughlin opened their SFC 2013 account with a comprehensive 5 point win over Simonstown Gaels under the Friday night lights in Navan this evening. Both sides traded early scores and it was indeed Simonstown who took the early initiative in going close by almost scoring a goal in the hospital end. This was the wakeup call Dunshaughlin needed and they dually responded in a fine manner in two back to back scores from sharp shooter Cathal O'Dwyer following a great trademark run from Ray Maloney and some great work from John Crimmons and Fearghal Delaney. With Trevor Dowd now starting to pull the strings on the 40 Dunshaughlin exerted their dominance with Fergus Toolin adding a fine score from play along with a converted free. Cathal O'Dwyer was now starting to be a thorn in the Simonstown full backline and he backed this up by adding another point from a free and a fantastic score on the spin with some quick thinking by the highly influential Michael Aherne from a quick line ball. It was all one way traffic at this stage with Conor Devereux chipping in and scoring a fine point after some great support play from captain Trevor Dowd leaving Dunshaughlin 7 points clear with Simonstown struggling after 25 mins gone in the first half. However the Gaels were far from finished and 3 unanswered points from an Andrew Kearney free a beautiful long range score from Mark McCabe and a glorious long range free from Sean Tobin brought them right back into the game. Dunshaughlin however finished the half as they started with Fergus Toolin adding another point from a placed ball to leave them leading by 5 points at the break. The second half could not have started more brightly for Dunshaughlin with 5 time all-ireland medal winner Fearghal Delaney rambling up the field with a majestic point from an acute angle. Simonstown refused to lie down and showed great grit and build up play before Seamus Kenny rounded up a fine score by scoring the first goal of the game in the 6th minute of the second half. Buoyed with this new found confidence Simonstown went on the attack again and added another point from a free leaving only 2 points now in the game. It took Maynooth college pairing Tommy Johnson & Tadhg O'Dushlaine to break Simonstowns momentum with some fine work in paticular from O'Dushlaine who offloaded to Johnson and scored to leave it a 3 point game again. Another attack from Simonstown resulted in a further score but the game changer came in the form of an inspirational block from corner back Mick Ahern who then raced up the field by getting on the ball again before setting up Conor Deveruex to slot over in a score that from that point on seemed to inspire the black and amber to gain a stranglehold on the game. Devereux's scoring exploits had not finished there with him adding 2 points in a row with one from his left and another with his right with some good lead up play from Marty Reilly and Rambler Delaney leaving the balance of the game once more in Dunshaughlins hands. Procession was now key and it was Dunshaughlins hard work and honesty who seen them through the remainder of the tie with Caoimhin King closing out the game with a fine score. This was a fine team display from Dunshaughlin who will be delighted with the points and everyone can hold their head high for contributing to a nice win with Cathal o'Dwyer, Mick Ahern, Fearghal Delaney, Ray Maloney and Conor Devereux impressing.
Dunshaughlin R. Gogan, A. Doyle, K. McTigue, M. Aherne, T. O'Dushlaine, T.Johnson(0.1), C. King (0.1), J. Crimmons, R. Maloney, F. Toolin(0.3), T. Dowd, F. Delaney(0.1), C.Devereux (0.3), M.Reilly, C. O'Dwyer(0.8). Subs: Liam Ormsby for Fearghal Delaney
Most Read Stories