AFL4: Moynalty goals down Slane
February 25, 2013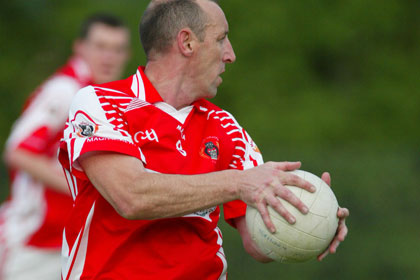 Moynalty's Damien Kangley
Moynalty 4-11
Slane 0-9
Moynalty had another great display in this second round of A League Division 4.
The home side started off with a point from Conor O' Loughlin and then Ollie Sheridan got a goal and a point before Slane could register a point. Slane got another point from a free. Paul Lynch scored 2 points 1 from a free, with Ronan Mc Mahon also getting a point, before Ollie Sheridan got his second goal. Slane hit back with 2 points from play. Paul Lynch grabbed 3 more points one from 45 with Slane adding one more to leave the half time score Moynalty 2-8, Slane 0-5.
The second half started off with Moynalty's Adrian Lynch getting a point, Slane then registered a point before Adrian scored his second point of the game. Ollie Sheridan then got his third goal. Slane battled hard to get more scores when getting one point. Paul Lynch scored 1 point from a free, Slane managed to get 1 point. Before some great passing between Paul Lynch and Nicholas Mc Kenna who put Michael Dorrigan through for the fourth goal of the game. Just before Slane end the game with a point leaving the final score Moynalty 4-11, Slane 0-9. Damian Kangley put in a mighty performance in centre field with Ollie Sheridan and Paul Lynch also impressive for Moynalty.
Moynalty - Thomas Owens, James Nevin, Cormac Kearney, (Tony Clinton 53) Kevin Maguire, Ronan Mc Mahon, Plunkett Tormay, Michael Lynch,(Stephen Blackburn 50) Damian Kangley, Conor O' Loughlin, Shane Farrelly,( Nicholas Mc Kenna 55) Adrian Lynch,( Paddy Sherian 53) Paul Lynch, Ollie Sheridan, Gavin Lynch, Michael Dorrigan.
Scorers: Ollie Sherian 3 goals 1point, Paul Lynch 6 points, Michael Dorrigan 1 goal, Adrian Lynch 2 points, Ronan Mc Mahon 1 point, Conor O' Loughlin 1 point.
Most Read Stories