IFC: First final for Na Fianna
October 08, 2012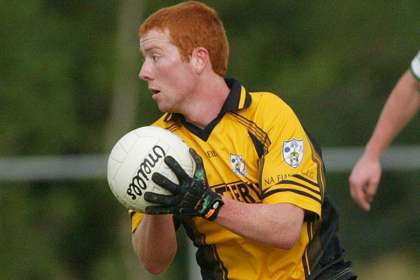 Na Fianna's Dan Queeney
Na Fianna 1-16
Castletown 0-15
Na Fianna qualified for their first ever Intermediate football final when they defeated Castletown in the semi final of the Meade Potato Co Championship in a excellent Trim grounds on Sunday.
While Castletown got the opening score, points from Jamie, Dan and Brian Queeney as well as Conor Downey and Dean Henrick saw the South Meath lads take alead which they held throughout the game. Na Fianna led by 0-9 to 0- 5 at half time.
Na Fianna started the second half as the finished the first and points from Dan and Jamie Queeney and a goal from Shane Barrett saw Na Fianna lead by 9 points of a score of 1-12 to 0-6 as the game entered the last quarter. However Castletown then proceeded to outscore Na Fianna by 0eight points to two to reduce the margin to 3 points with time almost up. However two finishing points by Barrett and Johnny Baldwin saw Na Fianna regain their composure to win by four.
Apart from those mentioned Na Fianna also has excellent performance from Shane Geraghty in goals, Michael Farley, Christy Cosgrove, Michael Foley and Diarmuid Bailey in defense.
Na Fianna now play Trim in the final
Na Fianna: Shane Geraghty; Diarmuid Bailey; Christy Cosgrove; Dean Henrick (0-3); Michael Farley; Michael Foley; Seanie Griffin; Daniel Queeney (0-5); Jamie Queeney (0-2); Conor Downey (0-3); Dean Barrett; Brian Queeney (0-1); Shane Barrett (1-2); Tommy Cosgrove; Dalton McDonagh. Subs; Johnny Baldwin for Seanie Griffin.
Castletown - R. Hoey, J. Metry, F. Hoey, N. Farrelly, S. Duffy, S. Farrelly (0-1), J.Carry, M.Hickey, G.Farrelly (0-2), K.Ross (0-6), D.Finney (0-3), J.Finnerty (0-1), T.Smith, D.Cribbin (0-1), B.Smith. Subs S.Hoey (0-1) for S.Duffy, K.Smith for B.Smith, A.Smyth for T.Smith and D.Ginnitty for M.Hickey
Most Read Stories