IFC: Na Fianna qualify
September 10, 2012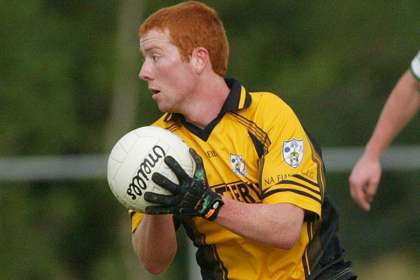 Na Fianna's Dan Queeney
Na Fianna 3-14
St Michaels 1-15
Na Fianna qualified for their first ever IFC semi final by over coming St Michaels in the final group game of the 2012 Meade Potato Co Ltd Intermediate Football Championship in Kildalkey on Saturday evening.
This was an excellent game played in good spirits by the two unbeaten teams in the group and the result was in doubt up to the last minute until Na Fianna corner forward Dalton McDonagh netted, much to the relief of the large Na Fianna following.
From the throw in Na Fianna had the opening attack which yielded a 45, scored by Dan Queeney. The Michaels showed their intent by immediately responding with a goal. While both teams traded scores during the remainder of the half, St Michaels were the more dominant side and Na Fianna needed a Shne Barrett goal to keep them in contention. Na Fianna trailed at half time on a scoreline of 1-8 to 1-6 with further points from Queeney, Barrett, Jamie McCormack and Michael Farley.
Dan Queeney again opened the scoring of the second half but St Michaels responded with two points to open up a three point lead and Na Fianna looked in danger of letting the game slip away from them. However two quick points from Seanie Griffin and Brian Queeney brough the game back to one point and a Dean Barrett goal put the South Meath lads in front for the first time since the opening score. Further points from Dan Queeney, Farley and Dean Barrett left Na Fianna just in front before McDonagh's goal sealed matters.
While all 17 players played their part in this victory, the performances of Dan Queeney,, Michael Farley, Shane Geraghty in goal, Christy Cosgrove and Dalton McDonagh deserve mention
Na Fianna: Shane Geraghty; Diarmuid Bailey; Christy Cosgrove; Dean Henrick; Michael Farley (0-3); Michael Foley; Seanie Griffin (0-1); Tommy Cosgrove; Daniel Queeney (0-6); Jamie McCormack (0-1); Conor Downey; Brian Queeney (0-1); Shane Barrett (1-1); Jamie Queeney; Dalton McDonagh (1-0). Subs; Dean Barrett (1-1) for Jamie McCormack; Davy Lyons for Shane Barrett.
Referee: Eamon Barry
St. Michaels 1-15, Na Fianna 3-14
Played in Kildalkey
Half time St. Michaels1-8, Na Fianna 1-6.
St. Michaels should have made it four wins out of four and will rue the numerous missed chances they had in the first half of this excellent game of football in the Meade Potato Co IFC played in ideal conditions in Kildalkey on Saturday evening last. The O'Reilly brothers J.B. in particular and Felim ruled the roost in the centre of the field and with John Farrell, John Farrell and Ciaran Lynch collecting the breaking ball, their forwards were getting ample supply but could not make it count on the scoreboard.
Na Fianna opened the scoring with a point in the first minute, three minutes later J.B. O'Reilly hit a wonderful individual effort to the back of the net to open St. Michaels account but within two minutes Na Fianna were back in front having registered 1-1 in a two minute spell. By the 10th minute the sides were on level terms following a Ciaran Lynch free and a point from play from Jamie Farrelly. Na Fianna had a great goal chance excellently saved by St. Michaels keeper Paul McCormack midway through the half, both sides exchanged points in the following 8 minutes and were on level terms on two further occasions as John Farrell and David Lynch got on the scoreboard for St. Michaels who finished the half the stronger going in at the break 1-8 to 1-6 up following points from Ciaran Lynch 0-2, Ronan Lynch and Felim O'Reilly 0-1 each.
Na Fianna reduced the deficit to just a point on 33 minutes however man of the match J.B. O'Reilly added a point and another Kevin Cassidy point put St. Michaels into a three point lead 1-10 to 1-7 with 38 minutes gone. Na Fianna reduced the deficit to just a point two minutes later, Kevin Cassidy added a point to restore a two point lead for St. Michaels but the turning point in the match came in the 42nd minute when Na Fianna following some indecision in and around the St. Michaels goalmouth managed to get the ball in the net to put them back into the lead for the first time since the opening 5th minute of play. Both sides added further points with Daithí Regan and Ciaran Lynch 0-2 each bringing it back to just a one point game at 1-15 to 2-13 in favour of Na Fianna in the 59th minute but it wasn't to be for St. Michaels as Na. Fianna added their third goal in the 61st minute and a further point in the 4th minute of added time secured their place in the semi-finals of the Meade Potato Co IFC while a gallant St. Michaels side who by all accounts contributed greatly to one of the best games of football seen this years Intermediate championship take the longer route through the quarter final stages.
ST. MICHAELS
Paul McCormack, Philip Rogers, Mark Stafford, Ronan Cassidy, Tommy Moriarty, Sam Briody, James Farrell, John Barry O'Reilly 1-1, Felim O'Reilly 0-1, Ciaran Lynch 0-5, John Farrell 0-1, David Lynch 0-1, Ronan Lynch 0-1, Jamie Farrelly 0-1, Kevin Cassidy 0-2.
SUBS….Daithí Regan 0-2, for Tommy Moriarty, Brendan Ryan for Ronan Lynch, Ben Farrell for Jamie Farrelly.
Referee….Eamonn Barry.
Most Read Stories