SFC: Three goal Skryne defeat Dunboyne
September 10, 2012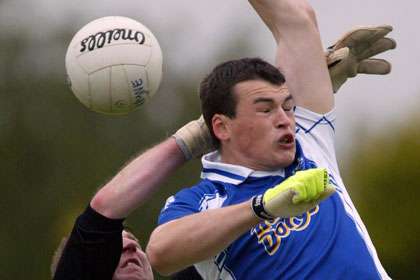 Skryne's Paddy O'Rourke
Skryne 3 - 7
Dunboyne 1 -10
Three goals from Skryne saw them end their group matches with a win in Ashbourne on Sunday. Apart from the first minute where Dunboyne, got off the mark with a point, Skryne were never led in this match. While Dunboyne were already through to the knockout stages of the championship, they never-the-less needed to win this encounter to achieve top spot in the group. Skryne however had other ideas and reeled of four consecutive points from Mark Battersby (3) and Paddy O'Rourke before Dunboyne posted their second score on 21 minutes. Three minutes later the game swung very much in Skryne's favour when Dunboyne's goalkeeper failed to deal properly with a shot and the inrushing Cian Byrne crashed the ball to the back of the net for Skryne's first goal. Dunboyne countered with a point but two more for Skryne from Ronan McCabe on the 27th and 29th minute saw Skryne go into the break with a 1 - 6 to 0 - 3 advantage.
McCabe further increased that advantage on 36 minutes. Dunboyne then had a small purple patch when they scored 1 - 3 without reply to get within a point of the Tara men with 44 minutes on the clock. However, the lead was soon extended again when Adam O'Sullivan finished a loose ball to the back of the net on the 46th minute. Dunboyne countered with two more points on 51 and 52 minutes to once again get within two points of Skryne. With 57 minutes gone, the game ended as a contest when Paddy O' Rourke got out in front to win a good ball and after a blistering run blasted the ball to the back of the net for Skryne's third goal leaving a margin of five points with time running out for Dunboyne. They did have the last say with two further points deep into injury time but Skryne held on for a well deserved win.
Skryne: F. O'Rourke, D. Brennan, M Mulvany, J. Looby, D. Lynch, A. Carty, J Hegarty, D. McGoldrick, C. Lenehan, A. O'Sullivan (1 - 0), T Giles , C. Byrne (1 -0), R McCabe (3), P. O'Rourke (1 - 1), M. Battersby (3). Subs: Quinn for Mulvany (38 min)), D. Ryan for Byrne (47 min), J. Jordan for McCabe (52 min)
Dunboyne - J. O' Connor, C. Finn, D. Sweeney, J. Meehan, C. Clarke, B. Comer, G. Timoney, S. Mc Garrell, C. Berrigan, G. Robinson, G. Watters, S. Moran, D. Lenihan, G. Gallagher and D. Clarke. Subs; M. Convey for G. Watters, C. O' Donoghue for S. Moran and A. O' Connor for D. Clarke.
Scorers; David Clarke 0-1, Stephen Moran 0-1 (free), Gary Watters 0-1, Gerard Robinson 0-2 ( 1 free), Donal Lenihan 1-0, Gerry Gallagher 0-1, Michael Convey 0-1, Craig Berrigan 0-1, Sean Mc Garrell 0-2
Most Read Stories