SFC: O'Mahony's destroy Blackhall
September 03, 2012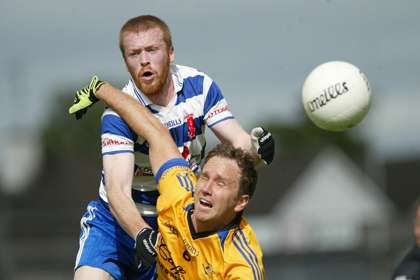 O'Mahony's Paddy Brady with George Beirne, (Blackhall Gaels) during the Meath SFC game at Pairc Tailteann.
TO VIEW A SELECTION OF PHOTOGRAPHS FOR THIS GAME CLICK HERE
Navan O'Mahony's 1-17
Blackhall Gaels 0-4
Navan O'Mahony's sent out a warning shot to all the clubs left in the race for the Keegan Cup when they totally outplayed a very disappointing Blackhall Gaels side in the hoganstand.com SFC.
The match was played in ideal conditions at Pairc Tailteann. The county grounds showed very little wear and tear from the American football two days previous.
O'Mahony's welcomed back David Bray after a long time out with injury and from the off they had Blackhall on the back foot. Jake Regan got the opening score of the game. Stephen Bray was giving the Gaels full back line a torrid time and he chipped in with four first half scores. Further points came from David Bray, Alan Forde and Regan (2) as O'Mahony's led 0-8 to 0-0 after 28 minutes. Blackhall got their opening score in the dying moments of the half when Sean Whelan pointed. The scoreboard might have had looked better for Leo Turley's charges had they taken some fairly easy chances in the first thirty.
O'Mahony's started where they left off for the second period. With ten minutes gone they led 0-12 to 0-1 with a brace of points from Regan and one each from Darragh Maguire and Stephen Bray. Half foward Stephen Morris got Blackhall's second score but O'Mahony's responded with points from Regan, Forde and substitute Sean Keating. Gary O'Brien was upended in the Gaels square but Paddy Smith's penalty was well saved by Blackhall keeper Tommy Dalton. Shane Gillespie was only on the field as a substitute when he had the ball in the Gaels net for the games only goal. Damien Moran and Gary O'Brien added to the O'Mahony's total while Whelan got two more points for Blackhall. It was a day the Kilcloon Batterstown outfit will want to forget.
Navan O'Mahony's will take on Seneschalstown in their last game to see who will top the group. The Navan club were missing notable players like Mark Ward, Kevin Reilly and Barry Regan but on this performance they are the team to beat in the race for the Keegan Cup.
Navan O'Mahony's scorers: Stephen Bray (0-5) and Jake Regan (0-5) each, Shane Gillespie (1-0), Alan Forde (0-2), Daragh Maguire, Sean Keating, Damien Moran, David Bray and Gary O'Brien (0-1) each
Blackhall Gaels scorers: Sean Whelan (0-3), Stephen Morris (0-1)
Referee Cormac Reilly
Most Read Stories