SFC: Gaels outscore Dunshaughlin
September 02, 2012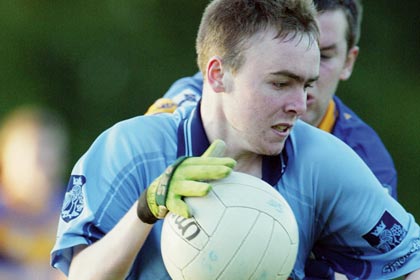 Simonstown's Andrew Kearney
Simonstown ....... 2-19
Dunshaughlin ...... 0-17
Simonstown Gaels outscored Dunshaughlin in this hoganstand.com SFC Group B fixture at Skryne on Saturday evening to remain on course for the knockout stages of the championship.
Andrew Kearney impressed in attack for Simonstown, scoring seven points from play. He shared the scoring plaudits with Stephen Moran who put 1-4 to his name.
The hour was almost up when Moran netted with assistance from Kearney and Mark McCabe to snuff out a Dunshaughlin rally that cut an eight-point second-half deficit to just two.
Some of the Dunshaughlin contingent felt that there was a foul on one of their number in the build-up to the decisive score.
The sides were level three times in the opening quarter. The picks of the first six scores were a well-flighted Moran point for Simonstown and a punched effort from Dunshaughlin's Tommy Johnson, who was preventing a Niall Murphy delivery from going wide.
Dunshaughlin's best spell saw them move two points clear on three occasions before the 18th minute had elapsed.
Sean Tobin, who scored six points for Simonstown, kick-started a good spell for the Gaels with a 20th minute free.
Three minutes later his goal attempt rebounded off the crossbar to Padraig McKeever who slotted slow to the Dunshaughlin net and the board read 1-6 to 0-7 with 23 minutes gone.
Simonstown remained in front to the end and were four points clear after 28 minutes when Tobin landed a 45. The first of Cathal O'Dwyer's five pointed frees for Dunshaughlin left it 1-8 to 0-8 at the break.
With the diagonal breeze behind them, Simonstown resumed where they left off and moved eight points, 1-15 to 0-10, clear by the 48th minute.
The first of Tobin's two effort from play was the pick of those scores while Kearney showed commendable composure for his first second-half scores.
Simonstown looked set to coast home as Dunshaughlin struggled to find the target against the elements.
Six scores on the spin left Dunshaughlin just two points, 0-16 to 1-15, off the pace by the 57th minute. By this stage Simonstown lost full-back Ian O'Rourke with an arm injury while his replacement Shane Gallagher had picked up two yellow cards.
Then came Moran's goal to bank the points for Simonstown and push last year's runners-up Dunshaughlin closer to the relegation dogfight.
Simonstown - R. Duffy; M. O'Rourke, I. O'Rourke, S. McGivney; C. Kenny, E. Donoghue, H. Traynor; D. Gaffney, S. Tobin (0-6, 3fs, 1 45); M. McCabe, J. Lyons, S. Barry (0-1); S. Moran (1-4), P. McKeever (1-1), A. Kearney (0-7). Subs - S. Gallagher for I. O'Rourke (45), P. Meade for McKeever (60).
Dunshaughlin - S. Clusker; C. Hoary, K. McTigue, A. Johnson; T. O Dubhslaine (0-1), C. King, D. Kealy; P. McHale (0-1), R. Maloney; F. Toolan (0-3, 2fs), N. Murphy (0-2), E. Hagarty; T. Johnson (0-2), M. Reilly (0-1 f), C. O'Dwyer (0-5 fs). Subs - A. Doyle for Hoary (17), C. Devereux (0-2, 1 45) for Hagarty (38), J. Crimmins for Kealy (40), F. Delaney for A. Johnson (60).
Referee - P. Neilis (Kilmainham).
Most Read Stories