SFC: St Pat's stun Don/Ash
September 02, 2012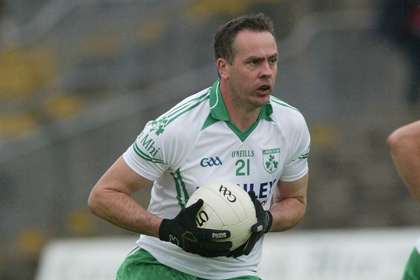 Cormac Sullivan St Patricks
St.Patrick's 2-10
Donaghmore/Ashbourne 0-09
St.Patrick's had a highly impressive win against Donaghmore Ashbourne in a very windy Seneschalstown on Saturday night. A very strong crosswind blew straight across the pitch which favoured neither side but it was Ashbourne who opened the scoring from play after six minutes. Niall Mooney then got Pat's off the mark with a free kick before Ashbourne work their way up the pitch to get another good point. Donal Landy then struck for goal for the Pat's, pouncing on a Niall Mooney shot which the goalkeeper saved and fly kicking the ball to the back of the net.
Donaghmore/Ashbourne then got the next score before Barry Campbell scored a good point which Niall Whearty followed up with a well taken free from 40 yards in the windy conditions. Ashbourne then swung over a good point from the left wing before impressive Pat's centre-back Darren Hagan sent over a great point after a fantastic run to leave the halftime scores St.Patrick's1-04 Donaghmore/Ashbourne 0-04.
St.Patrick's started the second half like a house on fire with midfield-man-mountain Cormac Sullivan swinging over a fantastic booming effort from the right wing to add to his fine all-round display. Nippy corner forward Donal Landy then popped over another point before Niall Mooney tapped over a free after Landy was cynically hauled down just outside the penalty area with two Pat's players bearing down on the goalkeeper. Barry Campbell then split the post after more good Landy work to give Pat's a seven point lead with only five second half minutes on the clock. Donaghmore/Ashbourne then stemmed the tide somewhat scoring a good point from play before converting a close range free but Niall Mooney answered back with a super point from the right hand side of the pitch.
Ashbourne converted two more free kicks to reduce the deficit to only four points with 48 minutes gone on the clock but this was as close as they would get as the Pat's defence held firm led by veteran full-back Ronan Kearns. On 55 minutes Donal Landy was put through clean on goal but just as he was ready to pull the trigger he was hauled down by two trailing defenders and a penalty was awarded. Sharpshooter Niall Mooney stepped up and expertly drilled the ball into the bottom corner. Niall Mooney rounded off the Pat's scoring with a fantastic long-range shot from the right wing before Ashbourne tapped over a free just before the fulltime whistle to leave the final score St.Patrick's 2-10 Donaghmore/Ashborne 0-09.
Best for the Pat's in highly impressive performance were Ronan Kearns, Cormac Sullivan, Donal Landy and Niall Mooney.
St.Patrick's:
Eabhann Connolly, David McQuillan, Ronan Kearns, Andy Reilly, Shane Dowling, Darren Hagan(0-1), Andy Mooney, Keith Whearty, Cormac Sullivan(0-1), Brian Calvey, Niall Mooney(1-4, 1pen,2f), Ciaran Calvey, Donal Landy(1-1), Barry Campbell(0-2), Niall Whearty(0-1, 1f).
Subs: Daithi Whyte for N Whearty 42', Barry Mooney for K Whearty 52', Shane Landy for D Landy 56', David Stafford for Reilly 61'.
St. Patrick's 2-10
Donaghmore Ashbourne 0-09
Donaghmore Ashbourne lost their first game of the hoganstand.com SFC group stages to a much hungrier and better organized St. Patrick's team in Seneschalstown on Saturday evening.
In summary Donaghmore Ashbourne lost the midfield and breaking ball battles and when in possession were turned over too easily as the Stamullen men were worthy of their win.
Andrew Tormey opened the scoring for Donaghmore Ashbourne with a point on 5 minutes with St. Patrick's drawing level from a free on 7 minutes. Tormey restored the lead for Donaghmore Ashbourne with another point on 9 minutes.
The turning point of the match came in the 11th minute when St. Patrick's took the lead for the first time when they found the back of the net from close range to go two points ahead.
The sides traded points early in the second quarter with Ciaran Beirne pointing for Donaghmore Ashbourne on 19 minutes and St. Patrick's replying again on 20 minutes. The Stamullen men extended their lead to three points with a free on 22 minutes and could have been further ahead with claims of a penalty not given by referee Frank Gallogly. The sides closed out the half with a point each with Eoin Reilly pointing from 20 meters after Donaghmore Ashbourne had to work hard for this score. Again at the other end St. Patrick's replied within a minute to head to the interval with a 1-04 to 0-04 lead.
With Donaghmore Ashbourne needing to start well in the second half to get back into the game it was the St. Patrick's team who were quickest out of the blocks and had extended their lead to 7 points with four unanswered points within 5 minutes of the restart.
Points from John Broderick on 37 minutes and a free from Paul Gilligan on 41 minutes did reduce the deficit to 5 points with both of these scores hard earned as the St. Patrick's defence was not in a generous mood. The sides traded scores at the end of the third quarter with St. Patrick's taking a long range point on 43 minutes and Gilligan keeping Donaghmore Ashbourne still in the game with a free on 44 minutes.
The final quarter started with another free from Paul Gilligan on 47 minutes as he reduced the deficit to 4 points and give the Moors supporters hope that they may pull this game out of the bag despite being second best. They also had a penalty call but like the first half this was not given. However this hope was short lived at St. Patrick's were awarded a penalty on 55 minutes and goal keeper Andy Colgan was sent the wrong way and the green flag was raised.
St. Patrick's final score of the game came on the hour while an Andrew Tormey free in injury time was Donaghmore Ashbourne's final score.
On this performance St. Patrick's showed that they are a solid hard working championship side who are willing to work very hard and put teams under pressure in every area of the field while Donaghmore Ashbourne will need to improve dramatically on this performance if they want to prolong their season.
Donaghmore Ashbourne: A. Colgan; E. Riordan, C. Mc Gill, S. Curran; C. Ellis, B. Menton, P. Gilligan (0-3) (3f) ; R. O'Connor, C. O'Mealoid; E. Reilly (0-1) , K. Lanigan, C. Field, J. Broderick (0-1); A. Tormey(0-3) (1f), C. Beirne (0-1). Subs: I. O'Donnell for Curran, E. Callaghan for Lanigan
Most Read Stories