SFC: Honours even at Pairc Tailteann.
August 13, 2012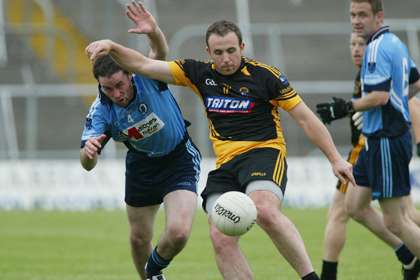 Dunboyne's Ger Robinson kicks a great point as Simonstown's Niall McMahon moves into block during the Meath SFC game at Pairc Tailteann
Simonstown came back from been five points down at half time to earn a draw with St Peters Dunboyne in this entertaining Meath SFC game at Pairc Tailteann.
St Peter's Dunboyne 0-10
Simonstown 0-10
With Donal Lenihan impressive at full forward, Dunboyne led by 0-8 to 0-3 at the break. Craig Berrigan opened the scoring with a long range effort for Dunboyne. Simonstown half back Michael O'Rourke levelled matters after five minutes and the Navan side took the lead with a fine effort from Declan Gaffney before St Peters took control. Playing with the breeze Dunboyne rattled off some great scores from Ger Robinson, John Meehan, Gary Watters, David Gallagher, David Clarke and two fine efforts from Lenihan. Stephen Moran got the last score of the half to send Simonstown in with some hope.
Simonstown came out with all guns blazing in the second period. Points from Mark McCabe and Andrew Kearney had the lead down to three before the outstanding Lenihan put Dunboyne back in control with two quick fire points. Sean Barry's charges refused to buckle and like Dunboyne in the first half dominated the final 15 minutes. Three great scores from Sean Tobin and one from Moran left one between the sides going into the final minutes. Simonstown missed a few easy chances to draw level and just when it seemed Dunbyne had done enough Andrew Kearney won possession and sent over the equaliser.
Best for St. Peters were Damien Sweeney, John Meehan and Donal Lenihan.
Dunboyne - J. O' Connor, P. Hayes, D. Sweeney, J. Meehan, D. Clarke, T. O' Connor, G. Timoney, S. Mc Garrell, C. Berrigan, A. O' Connor, G. Robinson, D. Gallagher, S. Moran, G. Watters and D. Lenihan. Subs - M. Convey for A. O' Connor, G. Gallagher for G. Timoney and J. Daly for G. Watters.
Scorers; Craig Berrigan 0-1, Gerard Robinson 0-1, John Meehan 0-1, Gary Watters 0-1, David Gallagher 0-1, Donal Lenihan 0-4, David Clarke 0-1.
Simonstown - R. Duffy; S. McGivney, I. O'Rourke, N. McMahon; C. Kenny, J. Lyons, M. O'Rourke; D. Gaffney, S. Tobin; M.McCabe, S. Barry, J. Lyons; S. Moran, H. Traynor, A. Kearney. Sub: P. Meade for McGivney.
Simonstown scorers: Sean Tobin (0-3), Stephen Moran and Andrew Kearney (0-2) each, Mark McCabe, Michael O'Rourke and Declan Gaffney (0-1) each
Referee: Seamus O'Connor
Most Read Stories