SFC: Wolfe Tones defeat Skryne
August 12, 2012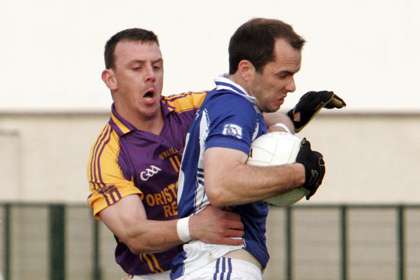 Stephen Sheppard (Wolfe Tones) puts pressure on Skryne's Martin Mulvaney during the Meath SFC game at Trim
Wolfe Tones 0 - 14
Skryne 0 - 10
Despite missing a penalty after eight minutes Wolfe Tones still had enough fire power to defeat Skryne in this third round championship match in Trim on Saturday evening.
The Tones were 3 points to two ahead when Skryne conceded the penalty and a goal at that stage would probably have given them an unassailable lead. Having a man like Cian Ward to take it for you should have made the task easy, but despite hitting a near perfect shot Felim O'Rourke in the Skryne goals was equal to the task and got down to turn the ball outside his posts for a 45 which Ward subsequently scored. Skryne got back on level terms through a point from Trevor Giles and on fourteen minutes David McGoldrick landed a long range free. Wolfe Tones went three ahead when Corrigan, Fox and Ward were on target but Skryne finished the half the stronger with two more points from Adam O'Sullivan and Mark Battersby. However they went into the break one behind with the score line at Wolfe Tones 0 - 7 Skryne 0 - 6.
Wolfe Tones increased their margin on 32 minutes with a further point from Cian Ward but this was cancelled out almost immediately with a mark Battersby point at the other end. Stephen Shepard and David McGoldrick traded points on the 37th and 38th minutes but two further points from Cian Ward on 41 and 44 minutes increased the lead to three for the Oristown side. Skryne were finding it difficult to get within the scoring area due to a very stubborn half back line for the Tones which included Eoin Harrington and Niall McLoughlin. Any free conceded was well outside what would be an easy chance for Skryne. None-the-less Ian Davis pulled one back for Skryne on 51 minutes but then Ward was again on target twice to stretch the lead to four points with only 6 minutes of regulation time left on the clock. Skryne now needed a goal to rescue the game and when Aidan Tuite scored a point on 60 minutes it would depend on the amount of extra time to be played as to whether they would get a chance or not. Indeed there was a further five minutes broken play to be had. Skryne launched attack after attack but wayward shooting and some stout defending deprived them of the score they needed and when Fiacra Ward pointed his only point of the gameon the 65th minute it ended all hope of a fairy tale ending for Skryne.
Skryne - F. O'Rourke, T. McKeown, M Mulvany, D Morley, J. Looby, C. Lenehan , J Hegarty, A Tuite( 1), D. McGoldrick (2), A. Carty, T Giles (1), I. Davis (1), A. O'Sullivan (1), R McCabe (1), M. Battersby (3). Subs D. Brennan for Morley (24) K. Reilly for O'Sullivan (54)
Wolfe Tones: D Nolan, R Brady, A McKeown, D Coleman, N McLoughlin (1), E Harrington, S Glynn, S Corrigan (1), C Blaney (1), S Shepard (1), A Fox (1), D McGrath, F. Ward (1), C. Ward (8).
Subs: A Callaghan for McGrath, P Byrne for Brrady,
Most Read Stories