IFC: McDonagh point seals Na Fianna win
August 12, 2012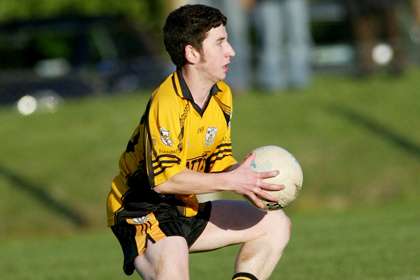 Na Fianna's Conor Downey
Na Fianna 0-17​
Dunderry 1-13 
Na Fianna recorded their second victory in the 2012 Meade Potato Co Ltd Intermediate Football Championship in a well prepared Boardsmill pitch on Saturday evening.
The South Meath lads recorded the narrowest of victories over Dunderry, who knocked them out of the championship at the quarter final stage last year. The platform for Na Fianna's success was the work of mid field pairing Tommy Cosgrove and Daniel Queeney with Michael Foley marshalling the defense from the No. 6 spot.  While Dunderry opened the scoring, two Daniel Queeney points had the sides level with 15 minutes gone. Dunderry then reeled off three unanswered points before further points from Dan Queeney, as well as Jamie Queeney and Conor Downey, saw Dunderry carry a 1 point lead into the half time break on a score line of 0-7 to 0-6. 
Both teams continued to trade points in the early stages of the second half with the Na Fianna points coming from two Conor Downey frees. Three quick points from Jamie Queeney, Shane Barrett and Dalton McDonagh saw Na Fianna take a two point lead.  Dunderry were then awarded a penalty mid way through the second half which was duly converted by Stephen Coogan. However their one point lead was immediately cancelled out by an excellent long range Shane Barrett point. Further points from the Queeney brothers, Dean Barrett and Downey saw both teams level as the game entered the final minutes before corner forward McDonagh got the clinching points with seconds left. 
Na Fianna: Shane Geraghty; Michael Farley; Dean Henrick; Diarmuid Bailey; John Baldwin; Michael Foley; Seanie Griffin; Tommy Cosgrove; Daniel Queeney (0-5 3f); Jamie McCormack; Dean Barrett (0-1); Conor Downey (0-4 2f); Shane Barrett (0-2); Jamie Queeney (0-3); Dalton McDonagh (0-2).  Subs; Christy Cosgrove for Michael Farley;  Brian Queeney for Johnny Baldwin. 
Referee: Frank Gallogly (Dunshaughlin)
Most Read Stories