IFC: Carnaross suffer second defeat
April 28, 2012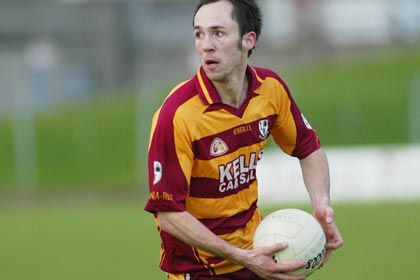 John L McGee Carnaross
Carnaross 0-9
Castletown 1-10
In a crucial game for both sides, Carnaross suffered their second championship defeat against Castletown.
Before the action started a minute's silence was observed in memory of former Carnaross player Thomas Ward who was laid to rest the previous day.
A free from John L McGee in the first minute gave Carnaross an early lead but Castletown hit back immediately with a free of their own. After ten minutes Castletown sailed through the Carnaross defence to find the net from close range. Carnaross hit back strongly and went on to add five points in a row from John L McGee (3), Dermot McGee and Damian Smith to take a two point lead with five minutes remaining. However, Castletown turned things around again hitting three points before Niall McDonnell scored the last point of the half to leave the sides level at the break, 0-7 to 1-4.
The first ten minutes of the second-half only produced a point each for both sides with John L McGee hitting the target for Carnaross. Castletown then took the lead and could have had their second goal after that when an effort flew wide of the post. They went on to add four more points which opened up a five point lead while Carnaross were guilty of missing plenty of chances which came their way. John L McGee hit the final score of the game for Carnaross who were left to regret hitting twelve wides compared to Castletown's four.
Carnaross: Cillian Comaskey; Thomas Nugent, Patrick Nugent, John Plunkett; Eamonn Comaskey, Charles Brogan, Ian Donoghue; Brian Comaskey, Peter Mullan; John Ward, Cathal Allen, Damian Smith (0-1); John L McGee (0-6), Dermot McGee (0-1), Niall McDonnell (0-1); Subs: Cian Gillic for Eamonn Comaskey; Shane Casserly for Ian Donoghue; Michael Brogan for Cathal Allen; John Carpenter for Peter Mullan;
Most Read Stories