IFC: Bad defeat for Carnaross
April 24, 2012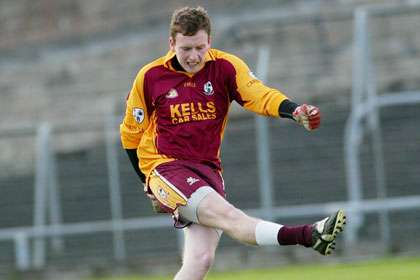 Carnaross keeper Cillian Comaskey
Carnaross 0-4
Ballivor 1-9
Carnaross endured a torrid day at the office in their opening championship game when they came out second-best against Ballivor.
Right from the throw-in Carnaross found themselves on the back-foot and were three points behind after four minutes. After nine minutes it got worse for Carnaross when Ballivor found the net to double their lead. This gave the Ballivor men even more confidence and they went on to stretch their lead further adding four more points before half-time. Carnaross keeper Cillian Comaskey pulled off a fine save for his side who amazingly didn't even manage to register a wide in the opening period and went in trailing 1-7 to 0-0 at the break.
After the resumption Carnaross found the target through John L McGee after twenty seconds. Another point from McGee and a '45 from Niall McDonnell gave Carnaross the start they needed five minutes into the second-half. However, this was as good as it got for Carnaross as Ballivor hit their first point of the second-half with thirteen minutes remaining and denied Carnaross at the other end when any chance came along. Niall McDonnell converted a free for Carnaross but Ballivor got the final score of the game in the closing stages to emerge deserving eight point winners.
Carnaross: Cillian Comaskey; Thomas Nugent, Patrick Nugent, John Plunkett; Eamonn Comaskey, Stein Carpenter, Ian Donoghue; Brian Comaskey, Michael Brogan; Dermot McGee, Cathal Allen, Damian Smith; John L McGee (0-2), Charles Brogan, Niall McDonnell (0-2); Subs: John Ward for Cathal Allen; John Carpenter for Michael Brogan; Richard Mulvey for Brian Comaskey; Paul Donoghue for Damian Smith;
Most Read Stories