IFC: Na Fianna goals stun Syddan
April 16, 2012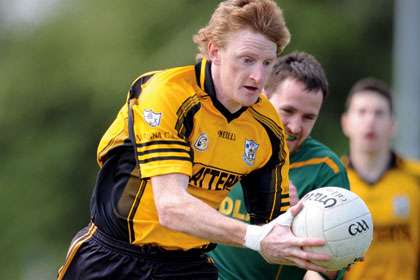 Na Fianna's Ollie Lewis
Na Fianna 3-7
Syddan 0-11
Na Fianna opened their 2012 Meade Potato & Co. IFC campaign with a victory over Syddan in an excellently prepared Trim pitch on Sunday.
The question being asked by most Na Fianna and Syddan supporters was how did Na Fianna come away with a victory. Syddan started the livelier of the two teams with Garry Farrelly getting their opening scores. Were it not for an excellent penalty save by Na Fianna keeper Shane Geraghty Syddan would have opened up a five point lead with less than 15 minutes gone. However the next ten minutes belonged to the Na Fianna corner forward Shane Barrett who netted three top class goals, with help from Dalton McDonagh, Seanie Griffin and Jamie Queeney. With 25 minutes gone Na Fianna led by 3-3 to 0-4 and looking in total command.
However, Na Fianna failed to score for the next thirty minutes while Syddan scored 7 points and missed as much again to leave two points between the teams as the game entered the last five minutes. However, four Na Fianna points in quick succession from the boot of Conor Downey saw the South Meath lads come away a very relieved group of players.
Best for Na Fianna were Shane Barrett, Shane Geraghty, Seanie Griffin, Ollie Lewis and Conor Downey.
Na Fianna: Shane Geraghty, Davy Lyons, Christy Cosgrove, John O'Lone; John Baldwin, Sean Griffin (0-1), Dean Henrick; Jamie Queeney (0-1); Brian Queeney; Dean Barrett; Michael Foley; Conor Downey (0-5); Shane Barrett (3-0); Tommy Cosgrove; Dalton McDonagh. Subs Ollie Lewis for Dean Barrett; Diarmuid Bailey for Dean Henrick.
Syddan: David Sullivan, Daniel Kearney, Barry Mc Connon, Paddy Rafferty (0-1), Cormac Rowe (0-1), Padraic Young, Luke Halpenny (0-1), Stephen Dillon, Brian Dillon (0-3), Ian Curran, Paddy Farrelly, Gary Farrelly (0-3), Fiarchra Ross (0-1), Philip Duff (0-1), Philip Meade. Subs: James Farrelly for Paddy Rafferty.
Referee: Frank Gallogly (Dunshaughlin)
Most Read Stories