U17 FL 5: Moynalty overcome Nobber in extra time
November 14, 2011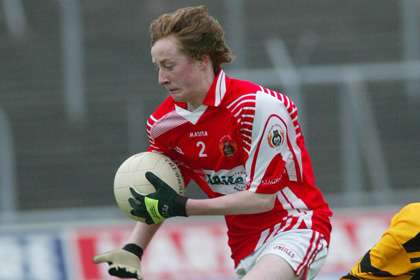 Moynalty's Kevin Doyle
U-17 Division 5 FL semi-final
Moynalty 1-14
Nobber 0-16
13-11-2011
2.00pm
Played in Moynalty.
Referee; Paddy Nelis
Moynalty won their place in the Division 5 league final on Sunday after a tough battle against Nobber on their own turf in Moynalty.
It looked unsure at first whether Nobber would have to forfeit the game as they did not have a complete team of 13 players. It was agreed that the Nobber side, already the underdogs, would play the 12 men they had against Moynalty's 13.
In the first few minutes Nobber did surprisingly well, a point from Dale Larkin opened the scoring and Nobber were ahead. After ten minutes Nobber looked weakened and Moynalty, with the wind on their backs, began to dominate scoring 1-3 without reply. Moynalty's goal came near the 20 minute mark when a scramble at the goals saw the ball across the line. Moynalty scored point after point, leaving Nobber trailing in desperation.
Some points from Stephen O'Brien, Seán Meade and Dean Halpin followed bringing Nobber somewhat back within reach of Moynalty.
At half time the scoreboard read Moynalty 1-07 Nobber 0 -06
The wind died down in the second half and Moynalty's domination continued. But Nobber's huge work rate paid off and Moynalty found it hard to penetrate Nobber's defence with excellent blocks from Cathal and Barry Cassidy.
Nobber chipped away at the points with frees from Larkin and a point from centre back Iain Brady, who blocked a shot down the other end minutes later. Nobber finally equalised with a Stephen O'Brien point just in the nick of time.
The score at the end of normal time
Moynalty 1-11 Nobber 0-12
In extra time, Nobber received another blow when Seán Meade had been injured in normal time (his collar bone turned out to be fractured), domination was something both teams fought for, but it was nip and tuck the whole way to the finish. As Nobber were already playing with one man less than their opposition, Meade was unable to come off and stayed on the field to fulfil the fixture, he had been the only player in Nobber's full forward line to that point so the team was reshuffled when goal keeper Sam Ogungbe was brought up and Ben Sheridan carrying on Sam's role as No. 1
In the second 10 minute half of extra time, Nobber went 1 point up for the first time since the starting minutes of normal time with another Larkin free kick, leaving Moynalty worried.
Neither team gave up though and Moynalty came back harder, Nobber full back Tony McEntee pulled off a goal-saving block when he dived across a Ronan Smith shot to put it out to the right of the Nobber goals.
Moynalty then scored two points in quick succession in the closing minutes, Nicolas McKenna putting them to the fore once again.
The game ended with Moynalty on top after a great game of football. Moynalty now face St. Michael's in the final which will, no doubt, be as exciting is this excellent display.
Final score - Moynalty 1-14 Nobber 0-16
Winning it for Moynalty were Ronan Smith, Shane Faulkner & Kevin Doyle.
Nobber with a great team effort had many fine performances, namely Dale Larkin, Stephen O'Brien, Iain Brady, Barry Cassidy, Tony McEntee and Éanna Fagan.
Nobber team; Sam Ogungbe, Cathal Cassidy, Tony McEntee, Éanna Fagan, Iain Brady, Barry Cassidy, Stephen O'Brien, Dale Larkin, Ryan Hughes, Dean Halpin, Ben Sheridan, Seán Meade.
Most Read Stories