IFC: St. Michael's oust Ultans
August 22, 2011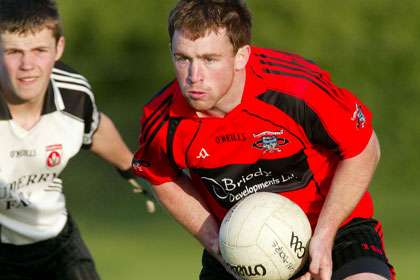 St. Michaels Robert Briody
ST. MICHAELS GFC
Sunday Aug. 21st 2011
Intermediate Championship, Relegation Play-off.
St. Michaels 1-10
St. Ultans 0-11.
Played in Kells.
Half time St. Michaels 0-5, St. Ultans 0-6.
St. Michaels kept their Intermediate status hopes alive with this 2 point win over fellow strugglers St. Ultans in Pairc Colmcille on Sunday afternoon. Both teams looked on edge and nervous at times as chances went a begging, but it is St. Michaels who will be the happier as this gives them the cushion of a win as St. Ultans & Cortown must now battle it out in the other play-off match.
Robbie Briody opened and closed the first half scoring with two points for the winners. St. Ultans started slowly opening their scoring on 3 minutes but then went through a barren 10 minute spell scoreless, meanwhile Daithi Regan was in fine form at the other end of the pitch as he registered 3 points in a five minute spell to put his side 0-4 to 0-1 up after 10 minutes, but that's where St. Michaels domination of the half ended as St. Ultans stepped up a gear and added 5 points without reply to leave them 0-6 to 0-4 ahead with half time approaching. Robbie Briody's second point on the stroke of half time was his sides first score in 20 minutes and left his side trailing by just one point at 0-5 to 0-6 at the interval.
St. Ultans stretched their lead to 2 points immediately after the break but the crucial score of the game came on 37 minutes when Ronan Farrell's pile driver gave the St. Ultans keeper no chance and it put his side back into the lead at 1-5 to 0-7. Daithi Regan added two further points without reply. David Lynch, Ciaran Lynch and Felim O'Reilly completed the scoring for St. Michaels who remained scoreless and went into defensive mode for the final 10 minutes breaking down any attack that St. Ultans made.
ST. MICHAELS
Paul McCormack, Mark Stafford, Philip Rogers, Daithi Reilly, Ronan Cassidy, Brendan Ryan, Robert Briody 0-2, Felim O'Reilly 0-1, John Farrell, David Lynch 0-1, Ciaran Lynch 0-1, Kevin Cassidy, Ben Farrell, Ronan Farrell 1-0, Daithi Regan 0-5. SUBS: Sam Briody for Ben Farrell, Sean Gaffney for Kevin Cassidy, Alan Dolan for Ronan Farrell.
From Pascal Reilly St. Michaels PRO
Most Read Stories