IFC: St Colmcilles and St Ultans share the spoils
May 01, 2011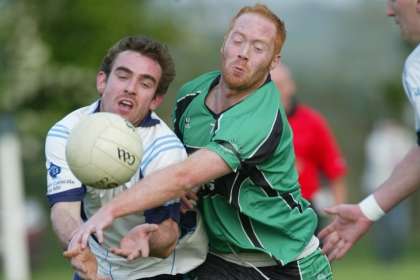 St.Colmcille's Sean Collier and St. Ultan's Darren Mallon contest the ball during the Meath IFC game at Slane.
St Colmcilles faced St Ultans in their second game of the Intermediate Championship, on Saturday 30th at 7.30 in Slane. For St Ultans it was their first game. The last time the two sides met a month ago in Division 2 of the A League the Cilles came out well on top with a score line of 2-13 to 0-7.
However, any confidence the Cilles may have felt from this last result was quickly wiped when St Ultans won the throw in and went down to the Cilles goal to open up their score line with a Shane Mulroe goal after less than 30 seconds. The Cilles responded with a score from Graham Reilly, but Ultans built on their strong opening and had the majority of the posession in the opening period and put over two more points in the first 5 minutes, one from a free. Graham Reilly added two more for St Colmcilles, one from play and one from a free. Ultans were dominating mid field and added another point via Paul Murray. Their forwards were getting through the Cilles backs with ease and at the 15th minute a challenge from the Cilles in front of goals led to a penalty which Cian Rennicks coverted to leave the sides 2-4 to 0-3. The Cilles however, fought back and wing back Damien Beakey added a point. Niall Flynn and his selectors then made a couple of changes for the Cilles which had an instant impact; Frankie McCloskey moved from full forward to full back and Ciaran Kelly came into the forward line, with Robert Madden coming off to make way for Kelly. Biggy added another point from a free and Johnny Tuffy also added a point, but things looked worrying for the Cilles at half time with St Ultans leading 2-6 to 0-6.
At the start of the second half there was a reversal of roles in terms of the dominance that St Ultans had enjoyed in the first half. The Cilles opened strongly with Biggy scoring a point in the first 30 seconds. David Sheerin fielded some excellent balls and the Cilles forward line were fed some great balls. Reilly added another and substitute Ciaran Kelly one more to close the gap to just a goal. John McKenna replaced Karl Mullen. St Ultans had two chances to score in the opening 10 minutes but put both wide. Ben Brennan added one more for the seasiders from a free. Damien Beakey, after an excellent run from mid field looked sure to score a goal for the Cilles only for it to hit the cross bar. Brennan then added one more and in the 19th minute John McKenna leveled the sides for the first time. The Cilles continued to make the most of their posession and Sean Collier and Brennan added another point each and Reilly 2 more. However, St Ultans were not for giving in and allowing the Cilles to have it their own way. They worked the ball in to convert a third goal from Daryl McLoughlin in the 23rd minute, their first score of the second half. The Cilles clung on to their one point lead but Ultans leveled the sides for the second time in the 29th minute through centre back Alan Martin and the two sides had to do with splitting the 2 points available.
Best for Ultans were Rob Duffy, Gearoid Rennicks, Alan Martin and Paul Murray
St Ultans: Alan Rodgers,Jason Bennett, Kieran Lynch,Tomas Coyne, Darren Mallon,Alan Martin 0-2, Darren Costello, Paul Murray 0-1, Gearoid Rennicks, Eugene Brady 0-1,Richie Lynagh, Rob Duffy, Daryl Mc Loughlin 1-0, Cian Rennicks 1-3, Shane Mulroe 1-0. Subs- Shane Rennicks for Brady.
St Colmcilles: Cianan Duff, Ian Mullen, Robert Madden, Mattie Metcalfe, Damien Beakey, Eoin Woods, David Sheerin, Eoin O'Brien, Ben Brennan, Karl Mullen, Graham Reilly, Sean Collier, Frankie McCloskey, Johnny Tuffy. Subs: Ciaran Kelly for Madden (19minutes), John McKenna for Karl Mullen (38 minutes).
Scorers: Graham Reilly 0-8 (0-3 frees), Ben Brennan 0-3 (0-1 free), Damien Beakey, Johnny Tuffy, Ciaran Kelly, John McKenna, Sean Collier 0-1 each.
Most Read Stories