SFC quarter-final: Skryne quick start downs Don/Ash
August 23, 2010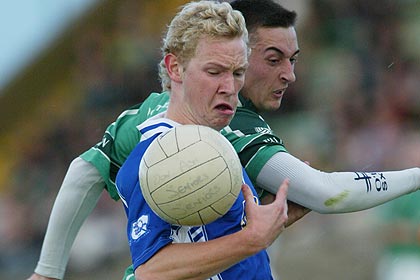 Skryne's Paddy Fox and Donaghmore Ashbourne's Ciaran Ellis battle for possession during the Meath SFC quarter final at Pairc Tailteann.
Skryne 2-11
Donaghmore/Ashbourne 1-8
The old adage that a good start is half the battle was proved true in the first of the Meath SFC quarter-finals at Pairc Tailteann on Saturday evening when 1-2 in the opening five minutes put Skryne well on the way to the last four.
Kevin Mulvaney fired to the net after a goal attempt by county 'keeper Paddy O'Rourke was blocked out in the second minute and points followed from Brian Byrne and Ian Davis (free) to leave the board reading 1-2 to 0-0.
That gave Skryne an advantage which they did not subsequently concede in an encounter which was marred by some unsavoury incidents. An official from each side exchanged punches along the sideline before being sent into the stand by Joe Curley.
When David Morgan eventually got Donaghmore/Ashbourne on the board with a goal on 13 minutes following a pass from Ciaran Ellis, there were prospects of a closer contest.
However, with O'Rourke and Davis showing accuracy from free kicks, Skryne refused to be ruffled by that concession and went on to lead by 1-7 to 1-2 at the break. That lead could have been more as Mulvaney was upended by Sean Curran on 18 minutes but the referee ignored claims for a penalty award. Although the lead was reduced to two points soon after the restart, Liam Harnan's side soon responded.
Wing-back Ciaran Ellis' second point was quickly followed by white flags by Niall Farrell and Andrew Tormey and Donaghmore/Ashbourne had cause for optimism.
But then two incidents at the respective ends summed up the two sets of forwards. Morgan looked certain to bag his second goal but Felim O'Rourke advanced to deny him.
Two minutes later and 12 into the second period Paddy O'Rourke made no mistake when taking full advantage of a delivery from Ciaran Lenehan, who was impressive at centre-back. That left the scores 2-8 to 1-6 and the writing was on the wall for Andy McEntee's charges.
From then to the finish Skryne outscored their opponents by three points to two as they cruised through to the semi-finals.
Skryne - F O'Rourke; A Curry, W Beaton, V O'Reilly; J Looby, C Lenehan, J Hegarty (0-1); D McGoldrick, I Davis (0-4, 4 frees), P O'Rourke (1-4, 3 pts frees), T Giles, B Byrne (0-2); K Mulvaney (1-0), A Carty, M Battersby. Subs - P Fox for
Mulvaney (half-time), A Tuite for Carty (46), J Quinn for Looby (49), B Davis for Byrne (59).
Donaghmore/Ashbourne - P Durkan; M Roche, C McGill, S Curran; C Ellis (0-2), C O Mealoid, T Kelly; B Menton, E Reilly; E Riordan, N Farrell (0-2), K Lanigan; D Morgan (1-1), I Dowd (0-1), A Tormey (0-2, 1 free). Subs - R O'Connor for O Mealoid (26), R Maguire for Riordan (46).
Referee - J Curley (Moynalty).
Most Read Stories