SFC: Dunboyne lose to Skryne
August 09, 2010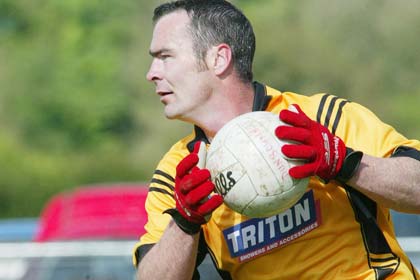 Dunboyne's Denis Gallagher
Skryne 2-10
St. Peters 2-6
Skryne held a three point half time lead against Dunboyne and added to it at the final whistle.
The Tara men held a 0-8 to 0-5 half time advantage.
Best for St. Peters were Denis Gallagher, Colm Brennan and Craig Berrigan.
Dunboyne - J. O' Connor, S. Mc Kenna, D. Gallagher, J. Moffett, C. Brennan, D. Gallagher, G. Barry, G. Gallagher, N. Crawford, G. Robinson, T. O' Connor, G. Watters, S. Moran, D. Clarke and S. Mc Garrell. Subs - C. Berrigan for J. Moffett, D. Lenihan for S. Moran, M. Reilly for G. Watters and M. Dunne for D. Clarke.
Scorers - Colm Brennan 0-1, Gary Watters 0-1, Ger Robinson 1-2 (2frees, pen), Denis Gallagher 0-1, Gerry Gallagher 0-1, Sean McGarrell 1-0,
Most Read Stories