SFC: Goals secure Donaghmore/Ashbourne win
July 20, 2010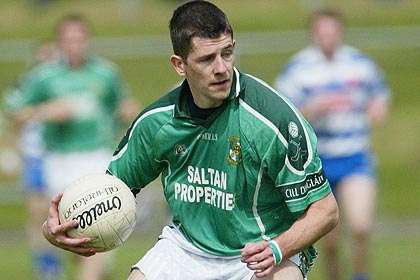 Former Meath player Cormac McGill in action for his club Donaghmore Ashbourne
Senior Championship
Donaghmore/ Ashbourne vs Oldcastle 
Time:  4:00 PM
Date:  18 July 2010
Venue:  Athboy
Referee: Brendan Darby 
Donaghmore/ Ashbourne 2-13 
Oldcastle 0-12 
The long-awaited meeting between these two sides proved to be a nail- biter, with the first half very evenly balanced, in the second the Donaghmore / Ashbourne lads pulled away from their challengers to win out the tie. 
Donaghmore/ Ashbourne were straight out of the blocks from throw-in, with Niall Farrell getting on the scoreboard inside a minute of the start. This was followed up immediately by an Andrew Tormey free, to  leave Don /Ash up by two points in the first couple of minutes. Oldcastle rallied, putting up three unanswered points by the eight minute to leave them in the lead. We won the kick-out from Padraig Durkan in goal, with Ciaran Ellis executing one of his usual penetrating runs through the field, working the ball to Andrew Tormey, whose excellent pass set up Kevin Lanigan for another Don/ Ash point at 13 minutes gone. Oldcastle won the ball, working it down to the Don/ Ash half, where Michael Roche, Ciaran Ellis and Sean Curran were steadfast in defence. A brace of pointed frees from Andy Tormey was followed by a good save from Durkan, but he could do nothing about Oldcastle's first pointed free, or the point from play immediately after. The kick-out didn't get far out the field, and the incoming ball was deflected out for a '45, which was beautifully gathered by Rory O' Connor and cleared. Donaghmore/ Ashbourne conceded a free in the 22nd minute, which was put over the bar , and was quickly followed by a stinging shot on goal which was palmed over the bar by Durkan to restrict Oldcastle to a point. David Morgan in front of the Oldcastle goal made a brilliant catch, and was man-handled off the ball in the square - penalty Don/ Ash ! Andy Tormey stepped up, and coolly slotted the ball into the net for the first goal of the afternoon. Donaghmore / Ashbourne clocked up a brace of wides before the action moved to our end, with Niall Farrell tracking back to execute a fine block in defence. Well into injury time, Oldcastle put over a pointed free to leave the sides level at the half-way mark - Donaghmore / Ashbourne 1-5, Oldcastle 0-8 
Oldcastle ramped up their attack after the throw-in, with Cormac Mc Gill and Sean Curran being kept busy in the Don/ Ash defence, keeping the attackers out sufficiently far that only points could be attempted. First score of the second half went to Oldcastle at 3 minutes in. Some slick interplay between Ellis and Lanigan, whose fine pass to Morgan resulted in another Don/Ash point. Some more great passing from O' Connor, with Morgan turning supplier to Tormey, who put over a point from play, then a pointed free. Sean Harmon was next to get on the score sheet, with another point from play. Oldcastle responded with a pointed free, before a lack of discipline in their ranks led to the dismissal of their no. 6 on 14 minutes. Kevin Lanigan pointed on 15 minutes, before another Oldcastle onslaught - Sean Curran defending particularly well. Eoin Reilly's goal attempt went just wide, before another opposition point. Donaghmore / Ashbourne then re-used a tactic which had worked well in the first half - namely, sending high ball in to David Morgan - another great catch, pass to Andy Tormey, and he drove the ball to the back of the net ! Oldcastle's number 8 was flashed a yellow card, and their number 9 was lucky not to follow suit for a foul on Niall Farrell. Sean Harmon tracked back to defend, and linked up nicely with Ian Dowd and Bryan Menton to feed the ball to Tormey, who pointed from play. Farrell followed up with a point of his own,  before yet more Donaghmore pressure was ill-rewarded with a brace of wides. Oldcastle scored a point on the 30-minute mark, and the resulting kick-out was worked forward by Ciaran Ellis for a magnificent solo point. Rory Mc Guire came on for Sean Harmon . Score at the full time whistle was  2-13 to 0-12, in Donaghmore/ Ashbourne's favour.  With Duleek / Bellewstown seeing off Summerhill, we topped the group and go into the Championship quarter-finals.  
Donaghmore/ Ashbourne Team and Scorers 
P. Durkan, M. Roche, C. Mc Gill, S. Curran, C. Ellis (0,1), T. Kelly, R. O' Connor, I. Dowd, E. Reilly, B. Menton, K. Lanigan (0,2), N. Farrell (0,2), S. Harmon (0,1) , D. Morgan (0,1) , A. Tormey (2,6 -4f) . Subs R. Mc Guire for Harmon
Most Read Stories