SFC: Trim goals not enough
July 19, 2010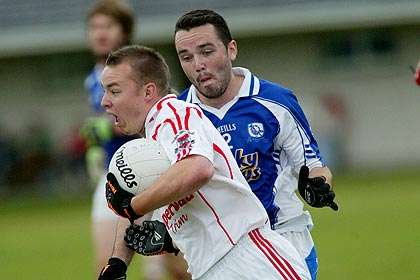 Trim's Neil Heffernan is tackled by Skryne's Andrew Curry during the Meath SFC game at Dunsany.
Within seven minutes from the throw in Skryne were four points up and it was not until the twelfth minute that a seemingly mesmerised Trim got of the mark with a Michael Lowther point.
Trim 4-6
Skryne 2-16
Skryne replied with their fifth point on fourteen minutes. In a one minute period at twenty minutes in Neill Heffernan set the game alight and Trim hearts fluttering with a goal and a point. Six minutes later Shane Kennedy landed another goal Trim goal after Skryne had scored a goal and a point. A Michael Lowther point on thirty minutes left the half time score level at 2-3 to 1-6.
Trim hearts were upbeat with their recovery coupled with the fact that Skryne had a defender sent off for persistent fouling. Whatever was said in the Skryne dressing room at half time seemed to have worked as after fifteen minutes from the restart they had scored 1-7 to Trim's no reply leaving the score entering the final quarter at 2-12 to 2-3, a 10 point difference.
A rout seemed on the cards. Trim struggled to cope with the extra man, their shape and play seemed to be disrupted and to compound problems, their main threat up front Neill Heffernan had to retire injured. But to Trim's credit they composed themselves and in the final ten minutes got back to within three points after scoring 2-3 to Skryne's two points. But that was a good as it got for Trim as Skryne tagged on another point to run out winners by four points.
Trim team ~ Niall Murray, James Toher, Ronan Fitzsimons, Paul Flanagan, Maurice Power, Ciaran Joyce, Paul Gilsenan, Brendan Murphy, Frankie Murphy, Shane Kennedy, Michael Lowther, Alan Douglas, Neill Heffernan, Conor O'Keefe, Derek Donohoe. Subs ~ Daragh Phelin for Neill Heffernan, Jimmy Canty, Stephan Doyle, Richard Fitzsimons, Colm Flaherty, Mark Gilsenan.
Trim scorers ~ Derek Donohoe 1-0, Neill Heffernan 1-1, Alan Douglas 0-1, Michael Lowther 0-2, Conor O'Keefe 1-0, Ronan Fitzsimons 0-2, Shane Kennedy 1-0.
Best or Trim were Neill Heffernan, Ronan Fitzsimons, Ciaran Joyce and Shane Kennedy
Most Read Stories