IFC: Michael's edge Syddan
May 31, 2010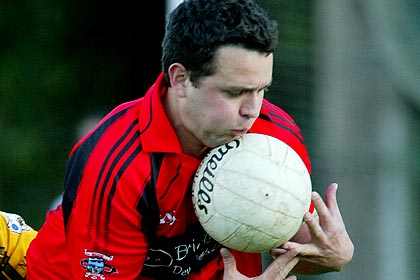 St Michael's Ciaran Lynch
St. Michaels 0-11
Syddan 0-10
St. Michaels escaped from Drumconrath on Friday evening last with their first points in this years championship in what was a very poor scrappy game of football.
Syddan could have won this match at their ease and will rue the fact that they didn't convert at least half of their wides tally.
Syddan opened the scoring with a point in the first minute, but it was the 18 minute before they registered their second by which time St.Michaels were 0-6 to 0-2 ahead with the points coming from Ciaran Lynch ( 0-3 ), Peter Clinton, Daithi Regan and Phelim O'Reilly (0-1 each ). David Lynch completed the first half scoring for St. Michaels as Syddan finished the first half strongly with three further points to leave them trailing at the break 0-5 to 0-7.
Syddan reduced the deficit to a point 2 minutes after the restart, Daithi Regan converted a free 3 minutes later but 2 further points from Syddan leveled the match 0-8 each after 47 minutes. A converted 45 from Derek Flood and a pointed free from Ciaran Lynch put St. Michaels 2 points ahead with five minutes remaining.
Phelim O'Reilly had his goal effort from outside the square well saved by the Syddan keeper who's team then rallied and were on level terms 0-10 each with the match entering stoppage time, but man of the match Ciaran Lynch was fouled in St. Michaels last attacking move and he duly converted the resultant free to give his side a hard earned victory over their North Meath rivals.
Best for the winners were Ciaran Lynch, Daithi Reilly and Paul McCormack.
St. Michaels - Paul McCormack, James Farrell, Derek Flood ( 0-1 ), Philip Rogers, Ronan Cassidy, Daithi Reilly, Peter Clinton ( 0-1 ) Brendan Ryan, John Barry O'Reilly, Johnny Reilly, Phelim O'Reilly, ( 0-1 ), David Lynch ( 0-1 ), Daithi Regan ( 0-2 ), Ciaran Lynch (0-5 ), Kevin Cassidy. Subs - Robert Briody for Johnny Reilly
Junior C FC
St. Michaels 0-15
Duleek / Bellewstown 1-11
Played in Slane
Half time St. Michaels 0-6, Duleek / Bellewstown 1-6.
Ben Farrell notched up 8 points and his brother Ronan scored the winning point in the last minute of added time to secure the points for St. Michaels in this keenly contested match in Slane on Sunday evening last.
St. Michaels started brightly with two points in as many minutes from Ben Farrell and Tom Halpin, Farrell ( 0-3 ) and Owen O'Sullivan ( 1 ) completed the first half scoring for St. Michaels, but a goal in the 29 minute ensured that Duleek / Bellewstown went into the break leading 1-6 to 0-6.
Duleek / Bellewstown extended that lead to 5 points after three minutes of the restart, but St . Michaels battled back and leveled the match on 59 minutes with points from Ben Farrell ( 0-4 ), Jamie Farrelly, Sean Cassidy, Gordon Ward & Patrick Flood ( 0-1 each), then Ronan Farrell came to the rescue for St. Michaels with a last minute point to get them offto a winning start in the junior C championship.
BEST FOR ST. MICHAEL S
Ben Farrell, Tom Halpin, Jamie Farrelly and Shane Clarke.
St. Michaels - Darren O'Connell, Shane Clarke, Michael Rogers, David O'Brien, John Hand, Patrick Flood ( 0-1 ), Sean Cassidy ( 0-1 ), Mark Stafford, John Sheridan, Jamie Farrelly ( 0-1 ), Ben Farrell ( 0-8 ), Ronan Farrell ( 0-1 ), David Carpenter, Tom Halpin ( 0-1 ), Owen O'Sullivan ( 0-1 ).
SUBS
Bernard O'Brien for Owen O'Sullivan,
Gordon Ward ( 0-1 ) for David Carpenter,
Mark Cassidy for Shane Clarke,
John Clinton for David O'Brien.
Most Read Stories