IFC: Carnaross maintain 100 per cent record
May 31, 2010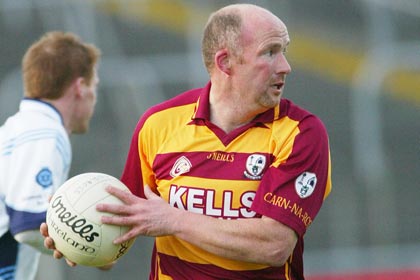 Ollie Murphy Carnaross
Carnaross 0-15
Kilmainhamwood 0-8
Carnaross recorded their second win from as many games with an impressive victory over Kilmainhamwood. Carnaross dominated most of the game except for ten minutes before half time.
Damian Smith set Carnaross on their way with the opening point from play. John L McGee added a free soon afterwards before Kilmainhamwood opened their account with a point from play. Carnaross could have extended their lead further after Damian Smith failed to find the net from close range. McGee then linked up well with Daniel Reilly to score another point before adding another shortly afterwards. Niall McDonnell was unlucky not to hit the net when he was denied by the keeper. However Patrick Nugent converted the resulting '45 to leave Carnaross 0-5 to 0-1 in front. Kilmainhamwood then managed to get themselves back into the game scoring six points in the final ten minutes. Another '45 from Patrick Nugent and a point from play from Dermot McGee ensured they did not take the lead leaving the sides level 0-7 each at the interval.
Carnaross started strongly in the second half and John L McGee converted a free in the opening minute. Damian Smith added another with a fantastic effort from play. Patrick Nugent hit his third '45 of the game after ten minutes. Another three frees from McGee extended the lead to six as Kilmainhamwood were guilty of missing some easy chances. Going into the last few minutes it was a case of seeing the game out for Carnaross as the defence denied Kilmainhamwood with every attack. Charles Brogan scored a point from play with time almost up after being set up by Ollie Murphy. As the game went into added time, Kilmainhamwood scored their first and only score of the second half before John L McGee finished the scoring with a point from play.
Carnaross: Cillian Comaskey; John Plunkett, Thomas Nugent, Patrick Nugent (0-3); Eamonn Comaskey, Stein Carpenter, Peter Nugent; Brian Comaskey, Dermot McGee (0-1); Damian Smith (0-2), John L McGee (0-8), Charles Brogan (0-1); Daniel Reilly, Ollie Murphy, Niall McDonnell;
Junior D Championship
Carnaross 0-8
Kilmainham 0-9
Kilmainham scored a late point to snatch this junior D Game in Kells.
It was a close game all the way with scores hard to come by. The half time score was three points apiece, with the Carnaross scores coming from Patrick Smith, Paul Donoghue and John Ward.
With about ten minutes to go, Carnaross led by two points, 0-8 to 0-6, with the last Carnaross score coming from a long free from Ciaran McDonnell. Kilmainham then had a man sent off but it seemed to inspire them and they got the last three points of the game to run out one point winners.
Best for a disappointing Carnaross were Matthew O'Reilly in defence and John Ward and Shane Casserly in attack.
Carnaross: Shane McNiffe; Ian Donoghue, Matthew O'Reilly, Peter Farrelly; Stephen Flattery, Patrick Smith (0-1), Thomas Farrelly; Ciaran McDonnell (0-1), Richard Mulvey; John Carpenter (0-1), John Ward (0-3), Shane Casserly; Paul Donoghue (0-1), Peter Mullan (0-1) Enda Gillic; Subs: Colin Yore for Stephen Flattery; Stephen McGrath for Paul Donoghue; Oliver Farrelly for Enda Gillic;
Most Read Stories