SFC: Tones back on track against Trim
May 03, 2010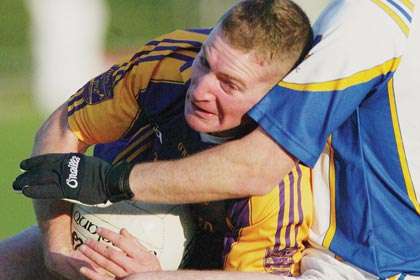 Wolfe Tone's Niall McLoughlin
Wolfe Tones 0-11
Trim 1-3
After losing to Dunboyne in the first round Wolfe Tones gained their first points in the championship by defeating Trim in Navan on Sunday.
With barely ninety seconds on the clock Cian Ward took a pass from Ciaran McLoughlin, now playing in his new role of full forward, and pointed the first score. Two minutes later Niall McLoughlin pointed and he got a further point to leave three points on the scoreboard. A foul on Ciaran McLoughlin and Ward had Tones four points to the good. Darren Mc Grath tagged on another before Niall Mc Loughlin added another. A further foul on Ciaran Mc Loughlin saw Ward put the free over the bar for another point.
Twenty minutes had passed before Trim had a score on the board with Neil Heffernan scrambling the ball over the line for a goal. Gordon Beggy added another point just before halftime to leave the scoreboard reading 0-8 to 1-0.
Ward added a further two points one from play another after a trip on Mark Coleman. Trim added a further two scores in the second half one of them being a fine score from their midfielder after a fine run down the sideline to pop it over the bar. Tones added another with a point from McGrath leaving the fulltime score Tones 0:11 Trim 1:03
Wolfe Tones - Sean Power, Richie Brady, Aodhan McKeown, Paddy Caffery, Barry McGinn, Eoghan Harrington, Stephen Sheppard, Alan Callaghan, Martin McNally, Gordon Beggy (0:01), Niall McLoughlin (0:03), Mark Coleman, Darren McGrath(0:02), Ciaran McLoughlin, Cian Ward (0:05).
Most Read Stories