SFC: Walterstown pip Dunshaughlin
April 19, 2010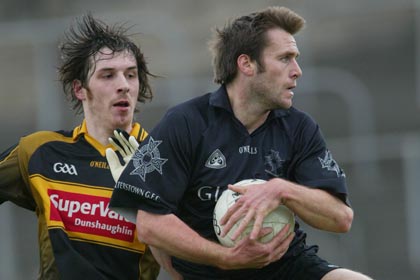 Walterstown's Alan Reynolds gains possession ahead of Dunshaughlin's Anthony Johnson during the Meath SFC clash at Pairc Tailteann
Walterstown 2-11
Dunshaughlin 2-10
Walterstown surprised Dunshaughlin with a last minute point from Alban Crosbie to win this exciting first round Senior Football Championship played in ideal conditions in Pairc Tailteann.
The opening exchanges were fractious with both teams "getting to know each other" in typical Championship fare. The first score didn't arrive until the seventh minute when Ronan Gogan tipped over a fierce goalbound effort from Walterstown full forward Thomas Walsh. Good work from Anthony Johnson started a move that Conor Staunton got on the end of to equalise three minutes later. However Dunshaughlin didn't score for another 20 minutes in a period where the Garlow Cross outfit were dominant. A goal on 16 minutes and three further points from Walsh left them 1-4 to 0-1 ahead as half time approached. A late flurry of points from Dunshaughlin brought them back in the game. Ray Maloney started the scoring tapping over after good work from Niall Murphy. Caoimhin King caught the resultant kick out and charged forward to score a great individual point. Conor Devereux and Martin Reilly pointed brilliantly in the next two attacks and despite another point from the Blacks, Dunshaughlin were probably relieved to go into the break only 1-5 to 0-5 behind.
However Walterstown extended that lead with two points straight after the resumption. The scoring frenzy continued with Staunton and Walsh swapping scores, the latter a booming free kick from close to half way. Six minutes into the second half neat interplay between Maloney and King set David Crimmins up on goal. Crimmins cleverly passed across to Staunton who empatically blasted the ball to the back of the net. This left the score 1-8 to 1-6. Two Devereux frees levelled matters by the 41st minute. A Walsh free was cancelled out by another King point after a terrific block and dispossession from Cathal O'Dwyer in midfield. A minute later Dunshaughlin went ahead for the first time in the match and they did so in style with a magnificent goal from the 21 yard line from Ray Maloney. Dunshaughlin failed to build on this lead and five minutes later Kit Reynolds bundled the ball to the net to level matters yet again. A terrific save from Ronan Gogan a minute later kept things level but yet another Walsh free left Walterstown a point ahead as the game entered injury time. By this time Dunshaughlin were down to 14 men when Staunton was sent off for a second bookable offence. When Niall Murphy pointed a free after a foul on Mick Ahern it looked as though the spoils would be shared, but a last gasp point from Crosbie who gathered the ball from the rebound when Gogan saved a goal effort from Walsh won it for Walterstown.
An amazing statistic from the game was that Dunshaughlin scored all but two of their points in a period of 15 minutes starting just before half time. They will have to take this form and extend it to the full sixty minutes if they have any chance to resurrect their Championship hopes with a victory over Senchalstown in the next round. Best for Dunshaughlin were Ronan Gogan, Caoimhin King, Ray Maloney, John Crimmins and Conor Devereux.
Dunshaughlin - Ronan Gogan, Tommy Johnson, Anthony Johnson, Kevin Ward, Eoin Hegarty, Mick Ahern, Caoimhin King (0-2), Ray Maloney (1-1), John Crimmins, Conor Devereux (0-3, 2 frees), Martin Reilly (0-1), Cathal O'Dwyer, Conor Staunton (1-2), David Crimmins, Niall Murphy (0-1 free) Substitutes - Denis Kealy for Reilly, Ken Mc Tigue for Ward
Most Read Stories