IFC: Castletown and Na Fianna draw
April 19, 2010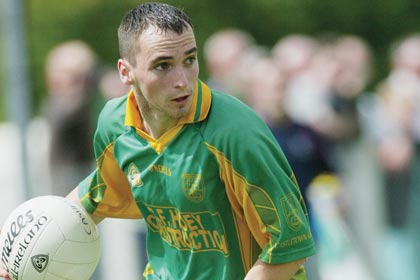 Castletown's Tommy Smith
Castletown 0-12
Na Fianna 1-9
Castletown lost a five point lead in the last six minutes of this exciting first round match played in Dunderry in perfect conditions on Sunday.
They had a one point advantage at halftime with three points from Shane Farrelly, two from Tommy Smith and one point each from Barry and Kenny Smith and Matthew Carroll, when they led 0-8 to 0-7.
Castletown had the advantage at midfield with Mick Hickey dominating that area for Castletown and the Castletown rear guard playing well also.
With points from Barry Smith, Shane Farrelly, Matthew Carroll and second half substitute Alan Smyth Castletown raced into a five point lead.
It took two youngsters to help bring the South Meath side back into the game as Daniel Queeney netted a spectacular goal in the 55th minute which was closely followed by two late points from sub Harry Silke. Na Fianna held out and even had a last chance to win the match but Silke dropped his effort short at which the referee drew an exiting first round game to a close.
Best for Na Fianna: Jamie and Daniel Queeney, Ollie Lewis and subs Harry Silke and Eoin Murray.
Best for Castletown in a great team performance were Joey Carry, Stephen Duffy, Matthew Carroll, Mick Hickey, Barry Smith, James Finnerty and Tommy Smith.
Castletown - J. Ginnity, J. Metry, N. Farrelly, J. Carry, S. Duffy, G. Farrelly, M. Carroll 0-2, M. Hickey, R. Cribbin, S. Farrelly 0-4, K. Smith 0-1, B. Smith 0-2, J. Finnerty, D. Ginnity, T. Smith 0-2. Subs - A. Smyth 0-1 for K Smith.
Na Fianna: Shane Geraghty, Davy Lyons, Christy Cosgrave, Bob Walsh, John Baldwin, Shane Burke, Padraic Hogan, Ollie Lewis (0-2), Tommy Cosgrave, Damien Downy (0-1), Dean Henrick, Conor Downey, Brian Queeney, Jamie Queeney (0-3), Daniel Queeney (1-01).
Subs: Harry Silke (0-2) for C Downey, Eoin Murray for D Downey, John O' Lone for Henrick, David Lynch for Hogan.
Most Read Stories