Holmes/Connelly interview was 'factually incorrect', says O'Shea
May 03, 2017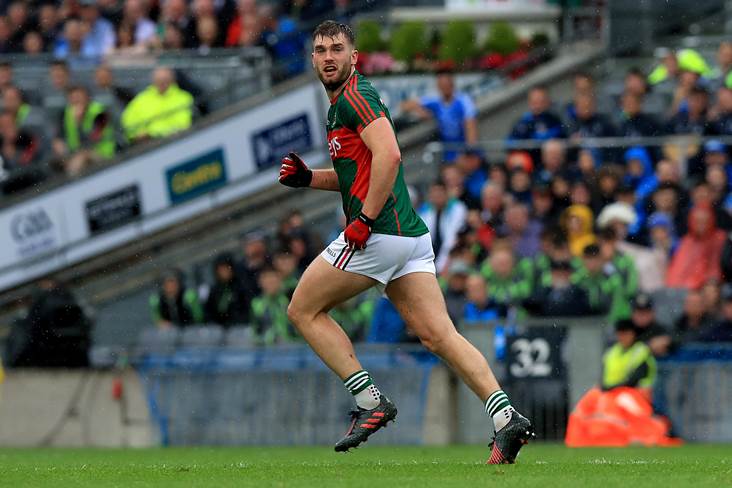 Mayo's Aidan O'Shea.
©INPHO/Donall Farmer.
Mayo star Aidan O'Shea has broken his silence on the version of events given by former joint managers Pat Holmes and Noel Connelly that led to a player revolt and their subsequent departure from the inter-county sidelines.
In an exclusive interview with The Irish Independent last December, Holmes and Connelly painted O'Shea, in particular, in a bad light as they stated that the Breaffy clubman had complained about their refusal to facilitate his participation in the 'Toughest Trade' campaign which, at that time, involved a link up with Sunderland AFC.
Holmes and Connelly also revealed that he had emailed them to query a player's release from a match day squad.
Speaking to The Irish Daily Star at the launch of AIB's 'Club Fuels County' launch of the All-Ireland SFC yesterday, O'Shea said he should have been given a right of reply.
"It's old news. It's factually incorrect and that's unfortunately the way the paper wanted to write it.
"That's their prerogative. It's not something I dwell on - I've completely moved on myself personally and the group have completely moved forward.
"We're trying to win an All-Ireland for lots of reasons but that's (getting back at Holmes and Connelly) not one of them.
"I'm not going to get into it, to be honest with ya. It's not the time or place but some day in the future I'm sure I'll go back over it, yeah.
"I didn't get the right to respond at the time and as a duty as a journalist they didn't give me the right at the time and I'm not going to do it now, six months later. It's a lack of respect. Please."
The Irish Independent, meanwhile, reveal that, in the aftermath of the publication of the interview, a request for a response from players to the Holmes/Connelly revelations fell on deaf ears.
A Mayo media official made it clear that none of the players would be commenting on the contents of the article.
Most Read Stories